End of watch for two late county lawmen was one of the most poignant highlights of the 100 Club of Comal County's annual dinner, attended by hundreds Tuesday night at the New Braunfels Civic/Convention Center.
Criminal District Attorney Jennifer Tharp paid homage to both legends whose long-time county service was celebrated — former Sheriff Bob Holder and Precinct 4 Constable Ben Scroggin — in tributes recalling their lives and legacies.
"He is the quintessential Texas lawman, who stands as tall as Randolph Scott with the easy confidence of a Glenn Ford and speaks with John Wayne's booming voice," recited Tharp from a Herald-Zeitung story that ran the day after Holder's death on Sept. 16, 2021. "He is the man who wears the white hat and is responsible for protecting his neighbors and maintaining law and order — under often extraordinary circumstances."
Both remembrances of Holder, who served as sheriff from 1977 to his retirement in December, 2016, and Scroggin, who died Dec. 17, 2020 while in his fifth four-term as constable, kicked off the dinner for the 100 Club, which was founded following the death of a Texas Department of Public Safety trooper in 2001.
Since then, the nonprofit raises and distributes funds benefiting families of first responders — especially law enforcement officers, firefighters, medical emergency services responders and jailers who fall in the line of duty.
This week's Good Friday/Founders Day fundraiser at participating McDonald's restaurant locations throughout the county raises proceeds for the 100 Club, which presents benefits to families immediately after losses of their first responders.
The 100 Club annually presents $2,000 college scholarships to their children, which this year included Kyleigh Olson of New Braunfels High School and Travis Zipp and Ethan Peltier of Canyon High School.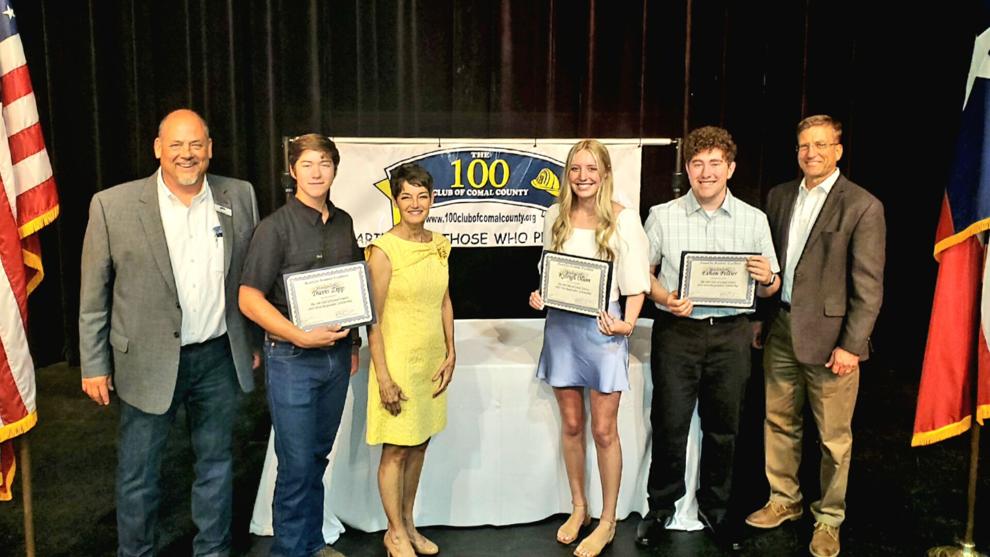 State Sen. Donna Campbell gave the invocation and Comal County Judge Sherman Krause led the more than 200 attending in pledges of allegiance to the United States and Texas flags. Canyon Lake Fire & EMS dispatcher Angela Hemphill was honored for her performance during the past year, and former U.S. Army Capt. Chad Fleming (retired) shined as special guest speaker.
Between 11 a.m. and 2 p.m. Friday, portions of proceeds from McDonald's locations in Comal County will be donated to the 100 Club, which provides immediate cash disbursements to families whose loved ones' deaths occur on holidays or Sundays, and pays premiums for life insurance policies benefiting families of Comal County first responders and support staffers.
Since 2008, Central Texas McDonald's have raised $581,361 for local 100 Club chapters.
"We have raised several thousand dollars in recent years and it always seems to increase with each year," Publicity Chair Belinda Frisk said. "The real blessing has been the interaction with McDonald customers not to mention the company's continued support throughout the years."