Henry J. Cordes and Jessica Wade Omaha World-Herald
OMAHA — If you think Omaha's plans for a streetcar system and a downtown skyscraper were ambitious, wait until you hear what else local business leaders are dreaming about.
The streetcar line and Mutual of Omaha's tower are just the beginning of business leaders' ideas for breathing more life into Omaha's urban core — what they call the region's heart and soul and engine for economic growth.
In the Greater Omaha Chamber's vision for the next 20 years, numerous other new high rises and dense construction would pull 30,000 more workers and 30,000 added residents into the area stretching from midtown Omaha through downtown and to the river's edge in Council Bluffs.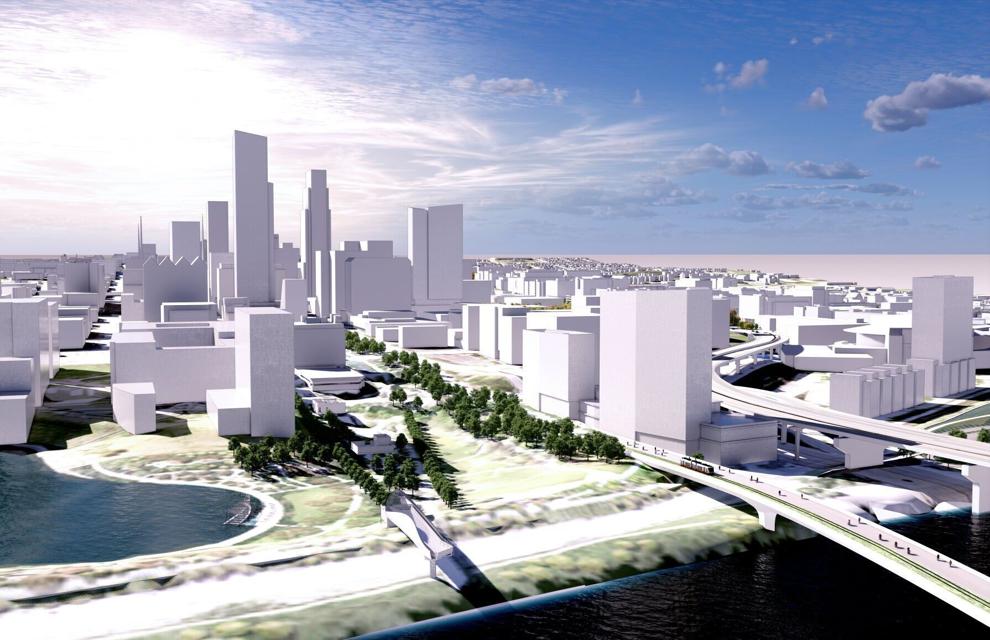 Imagine the aging gray elevated Interstate 480 freeway, which forms a northern barrier for downtown, being razed in favor of a slower, street-level boulevard lined by new housing, offices, restaurants and shops.
Just to the west, a unique two block-wide, landscaped "lid" built over another part of I-480 would create a public space that connects burgeoning west downtown into thriving midtown. A similar lid would span Saddle Creek Road south of Farnam, bridging cutting-edge new facilities at the University of Nebraska Medical Center.
To the east, a golf course across the Missouri River in Iowa would take on new life as a bustling housing and business development on the scale of Aksarben Village, all just minutes away from downtown Omaha via a new pedestrian bridge and streetcar spur line.
Other streetcar lines and transportation improvements would connect downtown into North and South Omaha and help move workers and fun-seekers from all over the metro area into and around the revitalized core. 
Chamber leaders say there's an urgent goal behind the "Urban Core Strategic Plan" released in March. They say achieving the plan's vision is vital if the region is to attract and compete for the workers who will drive economic growth here for decades to come.
"This is the next really big step, and we know it's mission-critical for the long-term viability of our community," said Jay Noddle, an Omaha developer who chaired the chamber's urban core committee. "We want our region to be a first-choice community for talent and employers. And in order to get there, we have to have an extremely vibrant, appealing urban core."
There's no price tag for all the bold ideas in the chamber plan, which would cost billions of dollars.
But chamber officials say each would be accomplished much like past development in and around downtown: through billions in private-sector investment, with the city assisting on related infrastructure improvements and philanthropists backing public amenities that enhance the city's quality of life.
"We will see a lot of private development and more public-private partnerships," said David Brown, CEO of the Greater Omaha Chamber.
The city is committed to its role in that partnership, said Omaha Mayor Jean Stothert. She stressed that the strategic plan is equal parts practical and aspirational, and some parts of the plan are higher priorities than others. 
Before moving forward on the I-480 lid, for example, she said the city would first focus on the transportation improvements, assuring available affordable housing and infrastructure. 
"Our role in implementing actions in the plan is to be a good partner," Stothert said. "Nearly everything we've accomplished as a city is a result of these strong partnerships we have."
Hundreds of thousands of people in the Omaha metro will continue to live and work in the suburbs. Chamber officials say Omaha needs to be a place that features diverse and affordable housing options to fit all needs and tastes, from acreages to suburban apartments to downtown condos.
But Brown said even people who live in the suburbs far from the core should support the vision if they enjoy sports, the arts, music or good food, or if they want Omaha to be a place where their kids and grandkids would choose to work and live and start a family. Chamber officials say taxpayers across the state also will see the benefits of a stronger Omaha central core.
Brown and other business leaders say they're confident of achieving the plan's broad vision of affirming the urban core's place as the region's premier hub for employment, entertainment and culture. One thing that gives them that confidence, Noddle said, is how some of the first dominoes have already begun falling into place.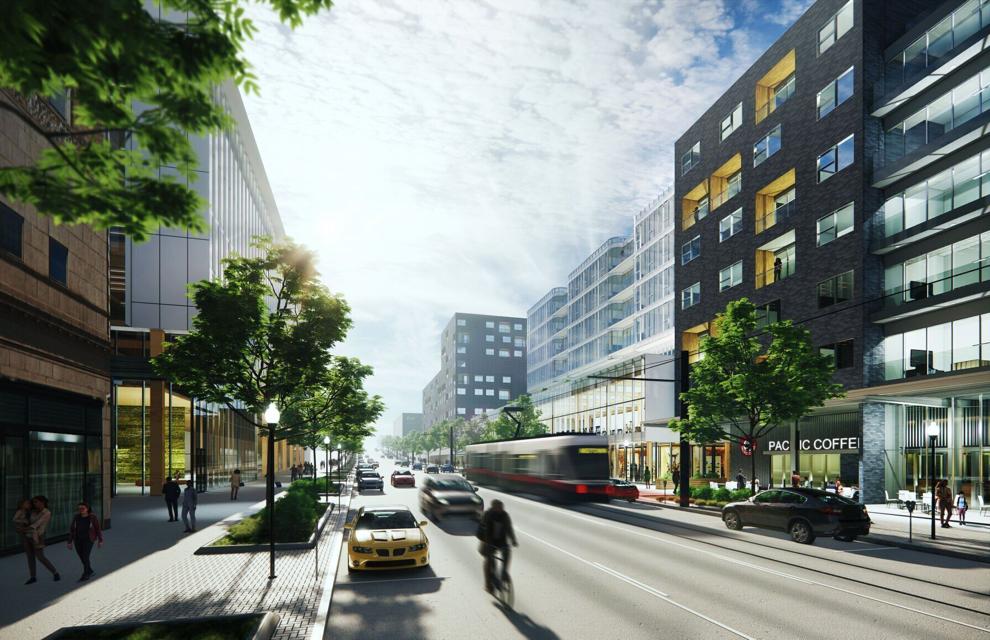 Some $400 million in philanthropic dollars is funding a major overhaul of the downtown park system and a new science center, amenities that figure to lure thousands to Omaha's riverfront.
Mutual of Omaha is set by 2026 to remake Omaha's skyline with a towering new headquarters that will root the Fortune 500 company's 4,000 workers in the heart of the downtown corporate district.
Private investors behind developments like the Capitol District, Mercantile District, Blackstone, Builders District and Millwork Commons are bringing hundreds of residential units, offices, shops and restaurants to the core.
UNMC is set to invest $2.6 billion in Project NExT, a national center for disaster preparedness that could employ thousands.
And all those vital assets will be linked by the modern streetcar system that Stothert threw her support behind earlier this year.
"It's really pretty remarkable if you think of what is happening in Omaha right now," Brown said. "We think we can take advantage of this wave of development and keep the wave going."
Get the latest local business news delivered FREE to your inbox weekly.