On Friday, Comal County Tax Assessor-Collector Kristen Hoyt was in the middle of preparing for next week's onslaught of 2021 tax payments, due a week from now.
"It's that time again for the property tax deadline in Texas," she said in reminding taxpayers the deadline to pay property taxes is Monday, Jan. 31, with unpaid assessments subject to penalties and interest beginning Tuesday, Feb. 1.
After succeeding longtime Tax Assessor-Collector Cathy Talcott in January 2021, the tax deadline is Hoyt's second after a number of accomplishments in her first year.
Tax offices downtown and in county annexes in Bulverde and Sattler, now handle boat registrations, offers specialized services for seniors and veterans, and streamlined vehicle titling and licensing.
"We were able to accomplish the goals I set during my campaign," she said, crediting her staff, partners and support from county commissioners. "We began boat registrations last spring and it was important to me that Comal County offered this service through Texas Parks & Wildlife to give residents a local option rather than traveling to Austin or San Antonio."
Hoyt said local dealerships are now able to process plates and registration for customers more quickly and that she negotiated better deals with third-party vendors that saved taxpayer dollars and lowered transaction fees. The tax office has updated its website and improved community outreach through improved social media, speaking engagements and other methods.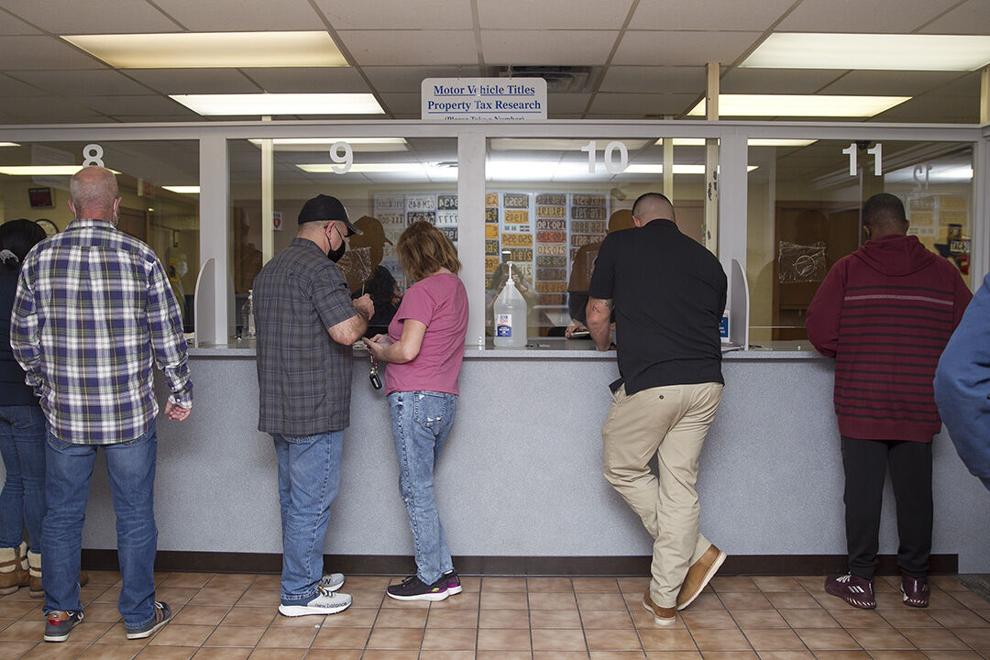 "We were able to make these improvements to benefit Comal County taxpayers, and we will continue to look for more opportunities to improve our services while saving taxpayer dollars," she said.
Another improvement was establishing online tax auctions of delinquent properties, hosted by the firm of McCreary, Veselka, Bragg and Allen.
"With support from Commissioners Court and a partnership with the Comal County Sheriff's Office, the county has held more successful tax sales that cover delinquent taxes for our entities and reduced working hours for county staff and deputies," Hoyt said.
Taxpayers can visit comal.truthintaxation.com to view breakdowns of estimated taxes owed to the 23 entities with collections through the tax office. It lists Comal Appraisal District values assigned to properties and estimates on property taxes owed to cities, school districts, emergency services districts, municipal utility districts and water districts.
Hoyt said the outcome of Comal Independent School District's Voter Approved Tax Ratification Election (VATRE) delayed distribution of 2021 tax statements on 83,572 taxable parcels in the Comal ISD and 105,213 in the county.
Statements usually mailed in mid-October were mailed in early November to avoid taxpayer confusion on amounts owed and additional processing and postage involved in mailing dual tax statements to thousands of property owners.
But the delay didn't change the tax payment deadline.
"For those taxpayers who find themselves needing assistance with making payments are encouraged to contact me as soon as possible," Hoyt said. "Partial payments are accepted; however, any amount remaining as of Feb. 1 is subject to penalty and interest."
The downtown New Braunfels tax office will be open until 5 p.m. Jan. 31. Drop-ins are welcome but those wishing to skip long lines can make payments or payment arrangements by through the tax office website, www.co.comal.tx.us/tax.
"I'm pleased to give residents the option to avoid lines and receive even more personalized service from our outstanding clerks," she said.
Payments are accepted in cash, personal checks, money orders or cashier's checks. Credit/debit card payments include a $0.30 and the 2.5% fee required by credit card vendors. Online e-checks, mandating property tax ID numbers, are $1.50 per transaction. Payments are being accepted between 8 a.m. and 4:30 p.m. daily or through 24-hour drop boxes at these locations:
• Comal County Tax Office, 205 N. Seguin Avenue, New Braunfels
• Sattler County Annex, 160 Oak Drive, Sattler
• Bulverde County Annex, 30450 Cougar Bend, Bulverde
"With continued growth in Comal County, you can expect lines through the end of the month at all three locations," said Hoyt, who also encouraged taxpayers to utilize these contact-less payment options:
• Online at www.comalpropertytax.com
• Through automated phone at 866-550-0031
• Scanning the QR code on the tax statement with a mobile device
• Mailed to P.O. Box 659480, San Antonio, TX 78265
• At 24-hour drop box locations at the three tax offices and Garden Ridge City Hall, 9400 Municipal Parkway in Garden Ridge.
To access 2021 tax statements, visit the tax office website at www.comalproperty tax.com.
"As in years past, residents can renew non-expired vehicle registrations online or at customer service counters at four H-E-B county locations and the Brookshire Bros. in Canyon Lake," Hoyt said.
For more, visit the tax office website, email to [email protected] or call 830-221-1353