Some health care providers in New Braunfels have seen a significant increase in people needing testing for COVID-19 in recent weeks.
At Riverside ER on South Seguin Avenue, Dr. Nwando Okafor, the facility's CEO and medical director, said they have seen a huge increase in the number of patients coming in for testing since Dec. 22.
"We initially thought this was because of the holidays and family trying to be safe prior to seeing their family members," Okafor said. "However, this has continued and we are now aware we are in our fourth surge. We are currently taking care of over 120 patients daily. Since we are an emergency room, we only test patients who have symptoms. Our testing does include evaluation by a board-certified physician, testing for COVID as well as other things that can be causing the symptoms as well as medications depending on what the results show."
Okafor added that they refer COVID-positive patients to the Southwest Texas Regional Advisory Council in San Antonio to get monoclonal antibody therapy. 
"Unfortunately, given the surge, supplies are extremely limited, and our patients do get contacted by STRAC as they become available," he said.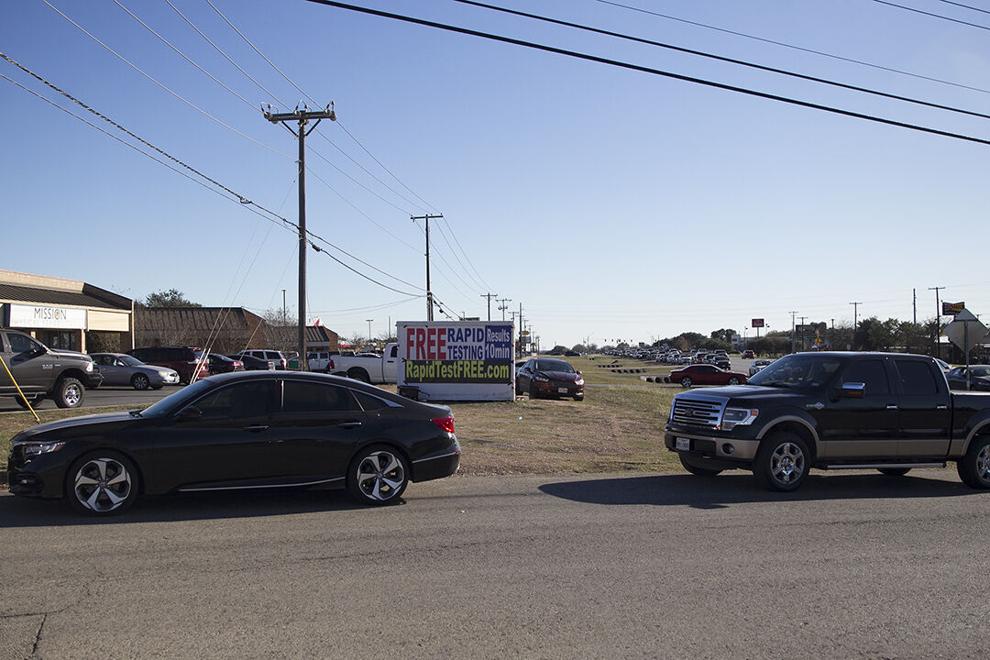 More than one in four COVID-19 tests reported to the state in the last week were positive as the highly contagious omicron variant spreads.
Lonestar 24 HR ER located on Medical Way has also seen increased traffic since just before the holidays.
"The numbers have gone up exponentially," said spokesperson Caryn Benson. "We are seeing a lot more COVID patients. We are seeing over 100 people a day for testing."
Benson added that the facility has also been treating an increasing number of flu patients.
They are also expecting the number of people needing testing and COVID-19-positive patients to increase in the next few weeks, she said.
COVID-19 testing conducted by Curative also continues in the parking lot of New Braunfels City Hall at 550 Landa St.
According to company spokesperson Pasquale Gianni, the site is seeing between 300 and 500 people for testing daily.
"Our team has been working efficiently and effectively to keep up with the recent surge in demand for testing," Gianni said. "We strongly encourage everyone to visit curative.com to make an appointment beforehand."
The testing location operates from 8 a.m. to 5 p.m., Monday through Friday.
Curative offers a modified version of the PCR test, allowing those being tested to administer their own swabs.
Tests are available at no cost to patients and are open to the public, regardless of which city or county a person resides.
COVID-19 testing is also available at a site operated by Grand Avenue Pharmacy located at 894 Loop 337 Unit B and at Christus Promptu Urgent Care located at 1659 State Highway 46 in New Braunfels.
New death, new cases
Comal County health officials on Tuesday reported the 485th COVID-19 death since the pandemic arrived locally in March 2020, while the patient population being treated for the virus in local hospitals continued upward.
Officials confirmed the death of a New Braunfels woman in her 60s who died on Dec. 27 at home.
As of Monday, 74,578 people who tested positive for the virus have died in Texas, according to state data. Seventy-eight new deaths were reported statewide on Monday.
The county reported 132 new cases Tuesday, bringing the number of virus cases to 21,404.
According to state data, 52,205 new cases were reported on Monday, bringing the seven-day average to 20,363.
Average new cases statewide have increased by 8,814 compared with the seven-day average a week ago.
Local hospitalizations continue to move upwards as Comal County's facilities reported caring for 27 COVID-19 patients on Tuesday, an increase of four from the previous day and 12 from a week ago. Five of those patients are in intensive care and four are on ventilators. According to county health officials, about 79% of those patients were unvaccinated.
Not all patients hospitalized in Comal County are necessarily county residents.
The regional hospitalization rate, which covers the 22-county area that includes both Comal and Guadalupe counties, stood at 6.9% on Tuesday, an increase from the 5.2% rate reported on Monday.
Experts say it's still unclear whether the current surge will overtake last year's numbers of infections, hospitalizations or deaths.
Millions of people are now vaccinated or have natural immunity, and there are more treatments available to keep people out of hospitals. The omicron variant is also thought to cause less severe illness in some cases, although the data on that is far from conclusive.
Meanwhile, hospital admissions across the country averaged 12,700 per day last week, up 46% from the previous week, but well short of the peak of 16,500 per day a year ago, when the vast majority of the U.S. was unvaccinated. 
Deaths have been stable over the past two weeks at an average of about 1,200 per day, well below the all-time high of 3,400 last January.