If you've been exploring the rooftops in Dying Light 2, then there's a good chance that you've found several Military Airdrops. Even if you've opened all the ones that are readily seen, you're probably wondering why you're not getting an achievement. Well, that's because we need to find those that are underwater. Here's our Dying Light 2 guide to help you with Sunken Airdrops and Inhibitor Containers in Newfound Lost Lands.
Note: For more information, check out our Dying Light 2 guides and features hub.
Dying Light 2 Sunken Airdrops and Inhibitor Containers guide
Newfound Lost Lands is the southernmost district in Dying Light 2, and it's also where you'd find Sunken Airdrops. This entire place is off the beaten path, and you won't be visiting it at all during the regular portion of the campaign. However, if you feel like going there, then you can pick up a lot of cool rewards. In fact, when my character was only level 6, I was obtaining level 8 and level 9 weapons and armors. Since level 9 is the cap, I was pretty much maxed out in terms of gear. But, be forewarned that these crates have locks that have hard or very hard difficulty. Make sure you craft and bring several lockpicks with you.
Note: Unfortunately, Sunken Airdrops only contain loot. They don't have Military Tech for your Nightrunner Tools. Still, the ones in the city proper ought to be enough to fully upgrade your gadgets.
Below, you'll see a map of this area in Newfound Lost Lands. You'll notice that this destination in Dying Light 2 has 12 Sunken Airdrops and 5 underwater Inhibitor Containers.
The map is slightly edited since I had collected a couple of the Inhibitors already, so I had to rely on screenshots to place icons in the approximate locations.
There's one particular Inhibitor Container that I've encircled in red. That's because, strangely enough, it seems the box is underground. I've tried looking for openings in houses, or even a tunnel that leads to it, but I couldn't find one. If you manage to grab it, do let me know.
Note 1: The western edge of Newfound Lost Lands has a Nightrunner Hideout and a Radio Tower if you want to see what's there.
Note 2: Assuming you've opened the other Airdrops in Dying Light 2, you'll receive the "Find Anything Interesting?" achievement.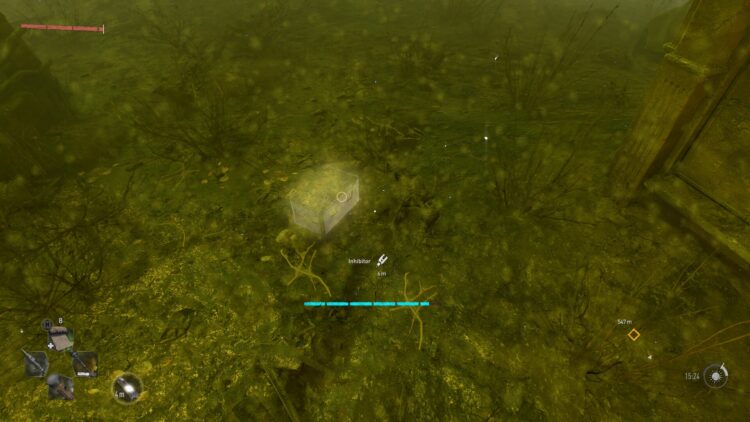 ---
Dying Light 2 is available via Steam. For more information, check out our guides and features hub.