"It doesn't matter if you are 16, 22, 40, 82 or 90. Everybody loves a Ford Mustang."
That is just one of the many observations Doyle Marshall has made regarding Americans and their love of automobiles. Doyle knows a thing or two about cars. He serves as co-chair of the New Braunfels Area Car Club Swap Meet and as a one of the directors of the club, which has been around for more than 30 years.
Doyle found his 1965 Ford Mustang in 1981. It was the first car he restored.
"There were tons of them at the time," he said. "Parts were inexpensive. You could still find parts at the Ford dealership."
The Mustang was the everyman's sports car. The cars could be found for a base price of under $2,500 in 1965, according to the National Automobile Dealers Association.
When Doyle found his in a yard, it was wrecked on one side. He drug it home on a trailer and got to work.
He took it apart and carefully resurrected it, including the original signature Silver Smoke Gray exterior color and black interior.
'It is a three speed standard, with a six cylinder engine," Doyle explained.
It was the precursor to the muscle cars, when V8 engines were added for souped-up versions of the Mustang and when Pontiac GTOs were having their heyday.
Doyle's Mustang also has the factory-added air conditioning.
"If you chose the air conditioning, the parts would be placed in the trunk of the car and sent to the dealership. The dealership would then install the air conditioning," Doyle explained.
Doyle's wife Marilyn helps with the car restorations, including her own 1955 MG TF.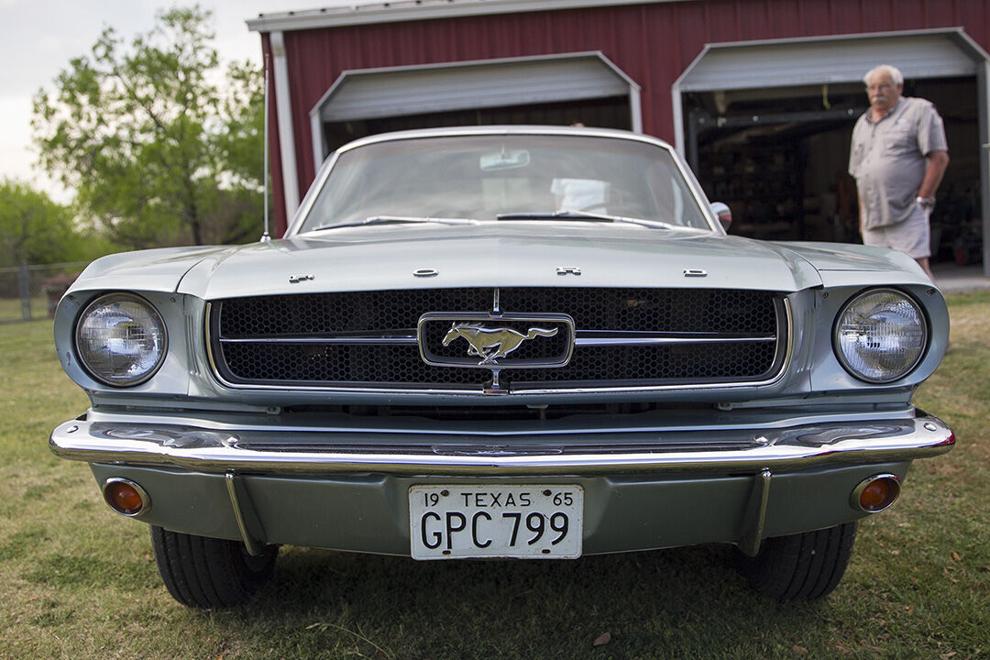 They call the car Marilyn's MG.
"But he only calls it that when it is broken," Marilyn claimed, grinning.
The specific model was only manufactured from 1954 to 1955.
The couple found the English roadster at the Pate Swap Meet near Fort Worth. It is the largest car swap meet in Texas. They found the car in 1982, a year after Doyle found his Mustang.
"We lived in California for two years when Doyle was in the Navy," Marilyn explained. "There were a lot of these types of cars there, and I always knew I wanted a car like this."
As with the Mustang, they took it apart and carefully rebuilt it, down to the tan leather interior. The exterior color, Matador Red, is a close match to the original factory shade of red.
Doyle grew up working on cars, learning from his dad. His first car was the family car, a 1953 Pontiac.
He taught his daughter Sherry how to work on her 1966 Ford Custom when she was in high school. Now, that car sits in a garage along with a 1928 Model A that belong to Marilyn's grandfather. Both are future restoration projects.
Car restoration takes time and patience, Doyle said.
It is like solving a puzzle.
"That is the fun part," he explained.
Finding the parts of the puzzle is one of the main reasons why the New Braunfels Area Car Club Swap Meet exists, Doyle added.
For three days (April 22-24 this year), car enthusiasts can shift through all kinds of car part vendor booths at the Comal County Fairgrounds to find the missing pieces needed to complete their auto projects. The swap meet features everything from hubcaps to headlights. Everything in between can be found as well.
"You might see things that you don't know what they are, but for someone else, it is exactly what they need," Doyle said.
He tells the story of one participant who attended the event with a sign on his back that read: "Need parts for a 1947 Dodge."
It is a treasure hunt in the grandest fashion for car enthusiasts. This year features 355 vendors. The Car Corral features cars for sale. There also will be a car show, as well as food trucks.
Nearly every type of auto is represented by car club members including antiques, hot rods, muscle cars, or even retro mod cars — retro cars that have been modified with new drive trains.
For Doyle, he misses the years when cars were simpler.
"Before the computers, you knew how to fix the car," he said.
His dream car is the 1964 Pontiac Catalina 2+2.
Both he and Marilyn realize that nostalgia plays a big part in their passion for cars.
"We sometimes take the cars to nursing homes," Marilyn said. "And we always hear, "I had a car like that.'"
For information about the New Braunfels Area Car Club Swap Meet, visit www.newbraunfelsareacarclub.com.