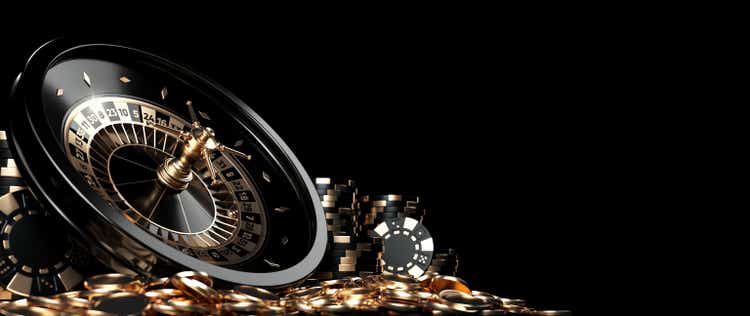 Golden Entertainment (NASDAQ:GDEN) is a Nevada-based company that manages a portfolio of casinos, taverns, and slot routes. The company found its recent form after a merger in 2015 with Golden Gaming and Lakes Entertainment. The company has been steadily expanding over the years but experienced a temporary hiatus during the pandemic. It is still the largest operator of taverns and slot routes in the state.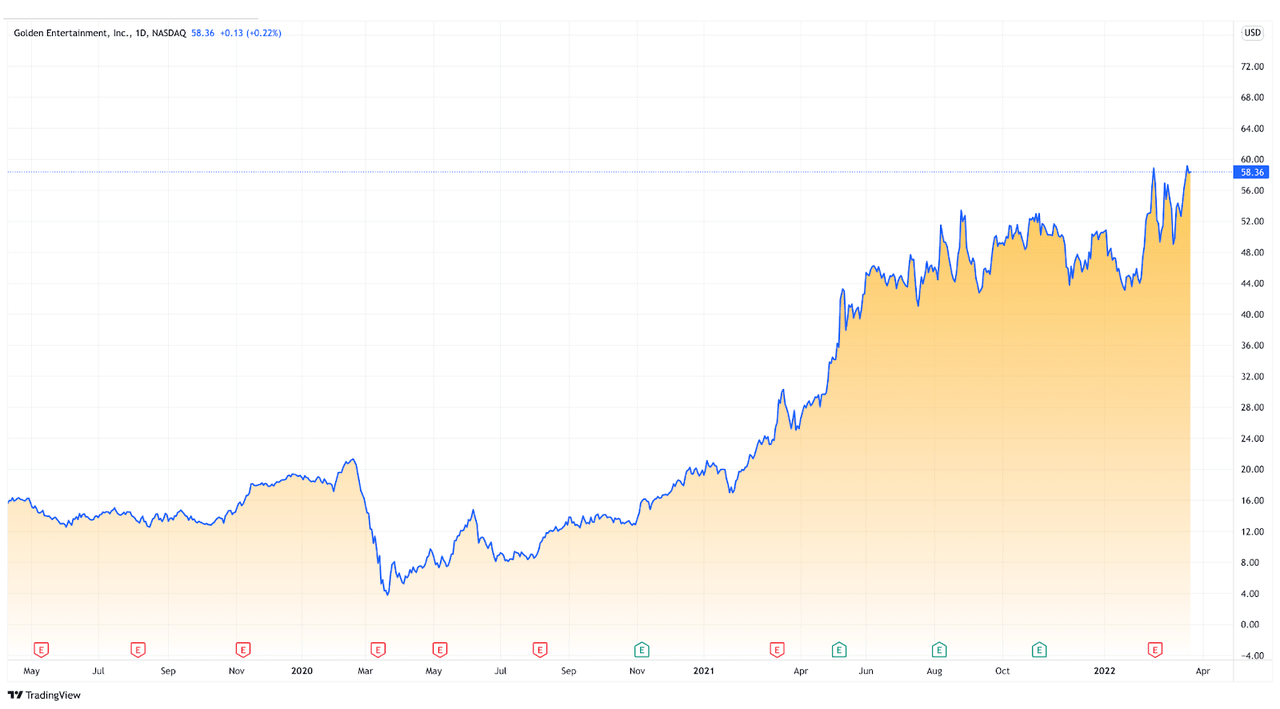 Things have now returned to normal, and it remains to be seen whether Golden Entertainment will pick up where they left off or work to slightly modify their business. Analyzing the company's management through what was arguably their most abrupt change, investors can assess whether to expect the same golden standard the company set over the years, or prepare for a more cautionary stance on the company.
Company Overview
Golden Entertainment operates under two reportable segments: Distributed Gaming and Casinos. The former involves the installation, maintenance, and operation of gaming and amusement devices in non-casino locations and branded taverns around the world. The latter focuses on owning and managing resort casinos. As of 2021, the company employed approximately 6,300 individuals across the United States. This represents a decline since 2019 when the company reached an employment high of approximately 8,000 individuals, all before the pandemic hit, resulting in many casinos and resorts having to close or restrict access temporarily.
Golden Entertainment currently has a market cap of over $1.5 billion, and a little over a third of the company's shareholders are institutional. The company has been active on the market, making a number of acquisitions over the years, adding to its overall portfolio, and gradually increasing revenue. The company's last purchase was in 2019, when it acquired the Colorado Belle and Edgewater casinos in Nevada. The $155 million cash purchase also included about 911,000 shares of stock. Golden also used $10 million of cash on hand and $145 million from the existing revolving credit facility to pay the cash portion of the purchase. Naturally, the company hasn't made any major moves since then, for obvious reasons. However, once things get back to normal, continued investments can be expected as the company looks for continued growth.
The State of The Industry
The past year not only marked the recovery of the commercial gaming industry but went on to set an all-time record for the US commercial gaming industry, which saw a $53 billion revenue record in 2021. As lockdowns and restrictions eased throughout the year, droves of people anxiously returned to casinos, thus breaking 2019's record of $43.65 billion by more than 21%. The fourth quarter brought in $14.31 billion, beating the then-record $13.93 billion in the third quarter of the same year and rounding off an overall good year for the industry.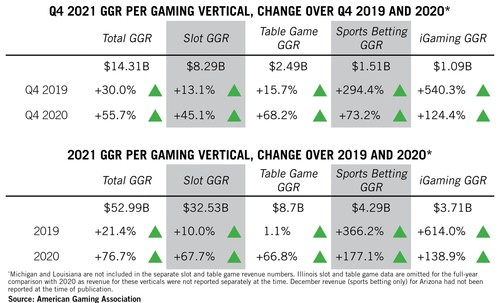 The traditional brick-and-mortar gaming sector grew 6.6% from 2019, thus contributing the most to the industry's recovery, with a combined slot and table revenue of $44.94 billion. The global casino market is expected to grow at an annual compound growth rate of 3.7% by 2026. As of 2020, the value was reported at $123.4 billion and could rise to $153.2 billion by the end of the analysis period. The US remains at the forefront of the casino business, estimated at US$70.1 Billion in 2021. Las Vegas remains a key attraction for casino players worldwide and is hence a major contributor to industry revenues in the region.
Financials and Outlook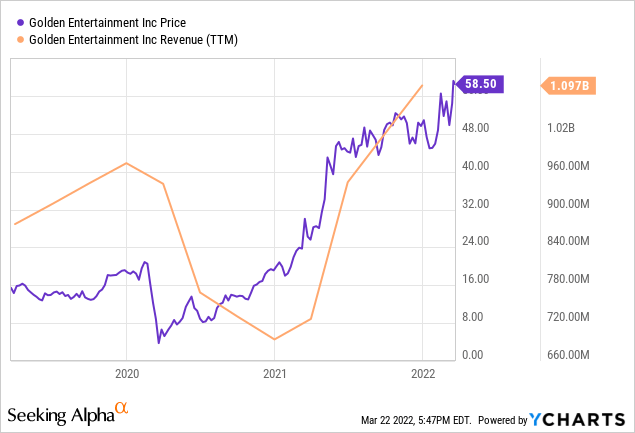 Golden Entertainment reported strong fourth-quarter results that wrapped a year of returned business dealings that directly reflects on the company's balance sheet. The company's 2021 fourth-quarter revenues of $282.0 million rose 37% from $205.6 million for the 2020 fourth quarter. This capped off full-year revenues of $1.1 billion, representing a 58% rise from the $694.2 million reported at the end of 2020. It is also safe to predict that 2022 will not see such a major leap in revenue growth, though it should maintain at a steady pace. Adjusted EBITDA was $67.8 million for the 2021 fourth quarter, a 72% increase from Adjusted EBITDA of $39.4 million for the 2020 fourth quarter. After a year of significant losses, shareholders will be happy to see a return of profit and can expect the same in the next few years to come.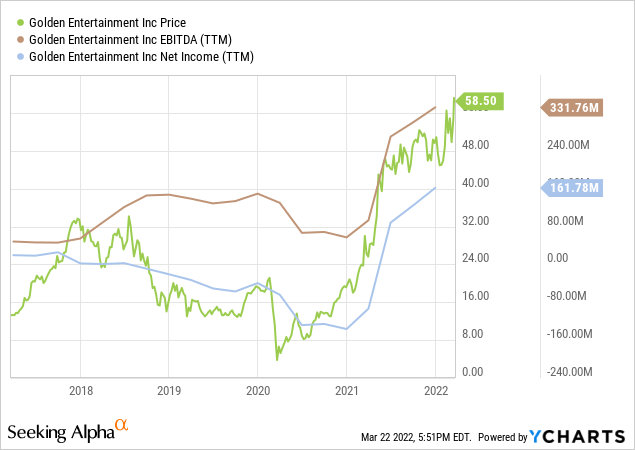 Looking at how each of the company's segments performed, the Distributed Gaming segment brought in most of the cash, at a reported $118.3 million during the fourth quarter, significantly higher than the $93 million reported in 2020's fourth quarter. The total revenue was reported at $467.6 million, compared to the $278.3 million reported in 2020. The fourth quarter represented the peak of the industry's comeback, with multitudes flocking to resorts and casinos after almost two years of lockdowns and restrictions, resulting in revenues that reached record highs. The fourth quarter will then almost surely see much more reasonable gains, but unless new measures are implemented that will return the industry to the 2020 days, stability is almost guaranteed.
Valuation and Competitor Risks
The gaming and casino industry is known for its razor-thin margins in tandem with its commonly high debt. This is by far the biggest risk for Golden Entertainment as well, and its balance sheet reflects this. With $1.3 billion in total debt, there is definitely a worst-case scenario in which the company's revenues suddenly decline due to global externalities such as a COVID resurgence or decrease in consumer interest.
That said, this in itself is not a major concern. While it may be true the company holds significant debt, its margins are still pushing it in a steady, positive direction as the recovery continues. With earnings rising along with share price, the company is set to increase its available cash significantly, making debt a far lower concern. In how this translates to the company's valuation, this will put it in a far better position than its competitors regarding price to cash flow. As it stands, Golden Entertainment has a TTM price to cash flow ratio of 5.67, nearly half of the sector median standing at 10.97. This disparity will only get more apparent as the recovery-induced earnings trend continues to fuel growing cash reserves. Ultimately, the company will have a stronger cash flow than the vast majority of its competitors; not only has price not caught up to reflect even the current cash flow, but it is poised to rise to reflect this continuing future increase as well.
Key Takeaways
The pandemic and its negative implications were out of Golden Entertainment's hands, but the company had to prove capable of bouncing back quickly once the opportunity arose. Aided by an influx of clients eager to return to normality, the company was able to re-open without any incident, capitalizing on the general feeling of the return to normality. Golden Entertainment has consistently rewarded shareholders with a total shareholder return of 148% in the last twelve months. That's better than the annualized return of 32% over half a decade, continuing on a trend that saw the company's share price soar 306% in the past five years. The current consensus earnings per share estimate is $0.70 for the coming quarter and $3.39 for the current fiscal year. This marks an estimated rise from $265.84 million to $1.09 billion in revenues during the year. As hinted at earlier, this isn't a dramatic rise from 2021, but it marks the resumption of steady and reliable returns in the years to come.
Investors can also expect more acquisitions that will expand the company's revenue and influence over the sector. If the company is smart enough, they would do well to branch into online gaming, which is itself an interesting sector to look at. In any case, doubts that past results would continue have been put to rest, and Golden Entertainment has once again proved its value and reliability making it a great investment.
This article was written by
I am a growth investor with a background in various sectors. I focus on companies with promising technology and sound business ideas which are set to take off in the near future. Anything I write about is strictly my opinion and should not be construed as investment advice.——————————–
Disclosure: I/we have no stock, option or similar derivative position in any of the companies mentioned, and no plans to initiate any such positions within the next 72 hours. I wrote this article myself, and it expresses my own opinions. I am not receiving compensation for it (other than from Seeking Alpha). I have no business relationship with any company whose stock is mentioned in this article.