3 hr 51 min ago
Norway searches for US military aircraft involved in "mishap" during NATO training
From CNN's Barbara Starr
A US military aircraft participating in NATO exercises in Norway has been involved in a "mishap," and a search and rescue operation is underway, according to the US Marine Corps.
The aircraft is an MV-22B Osprey assigned to the II Marine Expeditionary Force (MEF) US military unit in Norway.
"The aircraft was participating in Exercise Cold Response 2022," the Corps said in a statement. "Norwegian civil authorities are leading the search and rescue efforts at this time."
"Although the nature of military service is inherently dangerous, the safety of our Marines, Sailors, Allies and partners is our top priority," the statement said.
In a separate statement, Maj. Jim Stenger said, "We can confirm an incident has occurred involving a Marine Corps MV-22B Osprey aircraft. The aircraft was conducting training in Norway as part of Exercise COLD RESPONSE 22 at the time of the incident."
"The cause of the incident is under investigation," Stenger said. 
3 hr 14 min ago
CNN identifies 2 buildings hit at Mykolaiv military base, where journalists report troops have been killed
From CNN's Paul P. Murphy, Abby Baggini, Samson Desta and Jonny Hallam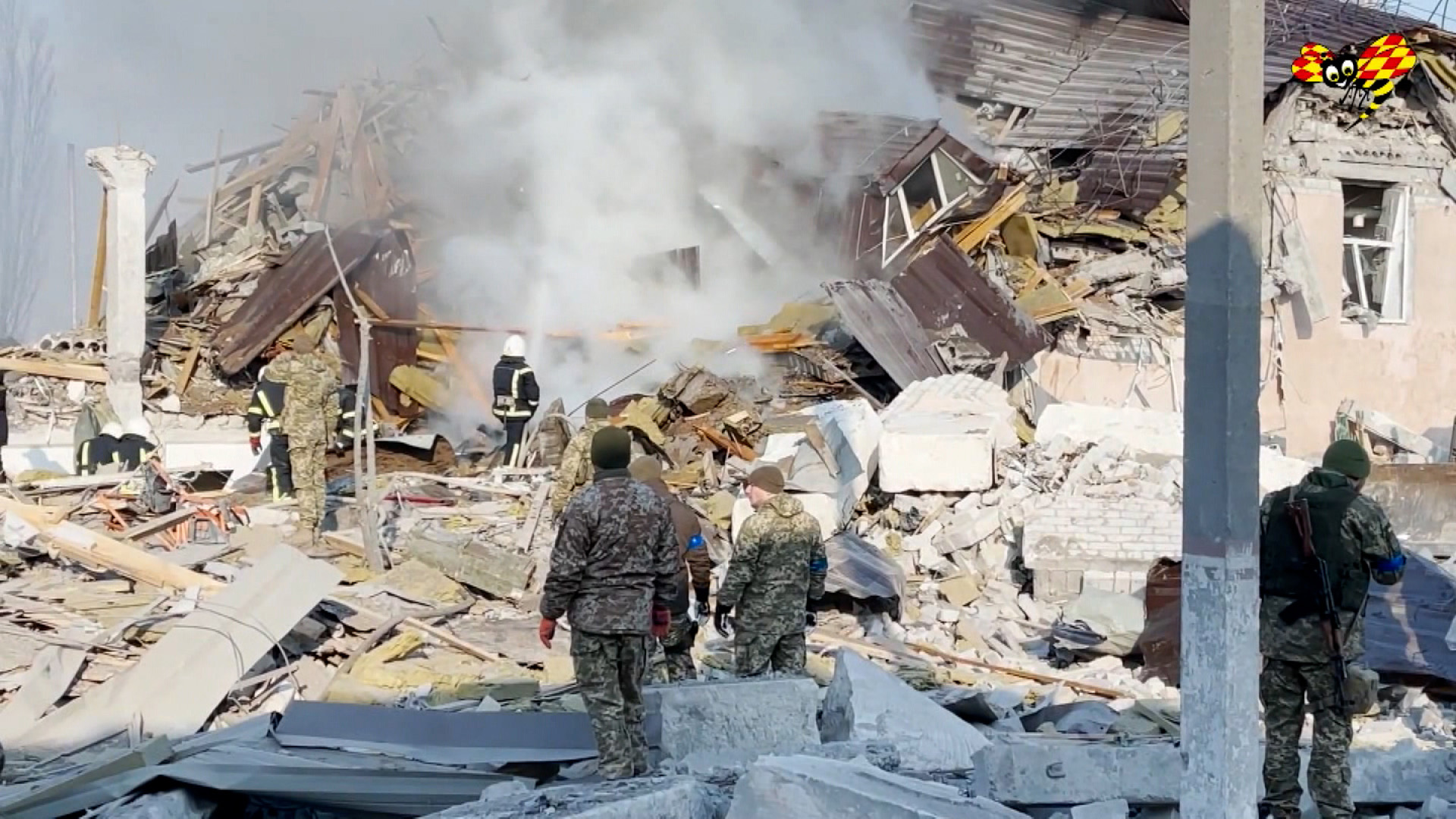 CNN has identified two locations at a military base in Mykolaiv in southern Ukraine that were hit by Russian strikes on Friday.
One location was documented by a photographer of the CNN Swedish affiliate Expressen, and another building was seen to be hit in photos and video on Telegram about 800 feet away to the north. 
It's unclear if any individuals were killed in the military strike at the second location. At the location in the Expressen photos, a number of bodies are seen.
According to journalists who were at the scene from Expressen, dozens of Ukrainian troops are reported to have been killed at the military base.
Expressen correspondent Magnus Falkehed and photojournalist Niclas Hammarström reported that around 6 a.m. local time on Friday (12 a.m. ET), "two Russian fighter jets dropped what appeared to be five bombs," destroying several buildings at the military barracks.
Rescuers at the scene used shovels and their bare hands to free survivors from the rubble of the buildings, according to the journalists. In dramatic video filmed by Expressen, one Ukrainian soldier is seen being pulled alive from wreckage.
Expressen quoted one of the surviving soldiers, 54-year-old Serhil, who was sleeping in the barracks opposite where the attack hit, as saying that "of the approximately 200 who were there, I would guess about 90 percent did not survive."
"Glass flew everywhere. I prayed to God that I would have time to take shelter before more bombs came. There are always more bombs," Nikita, a 22-year-old Ukrainian soldier, told Expressen.
Mykolaiv, a southern city that sits along the Black Sea, has been a frequent target of Russian bombings. Prior to Friday's bombings, Russian forces had already attacked Mykolaiv with cluster munition rockets in three separate attacks spanning a week, according to a Thursday report by Human Rights Watch.
4 hr 20 min ago
These are the requests from Zelensky that Western allies have not yet fulfilled 
From CNN's Paul LeBlanc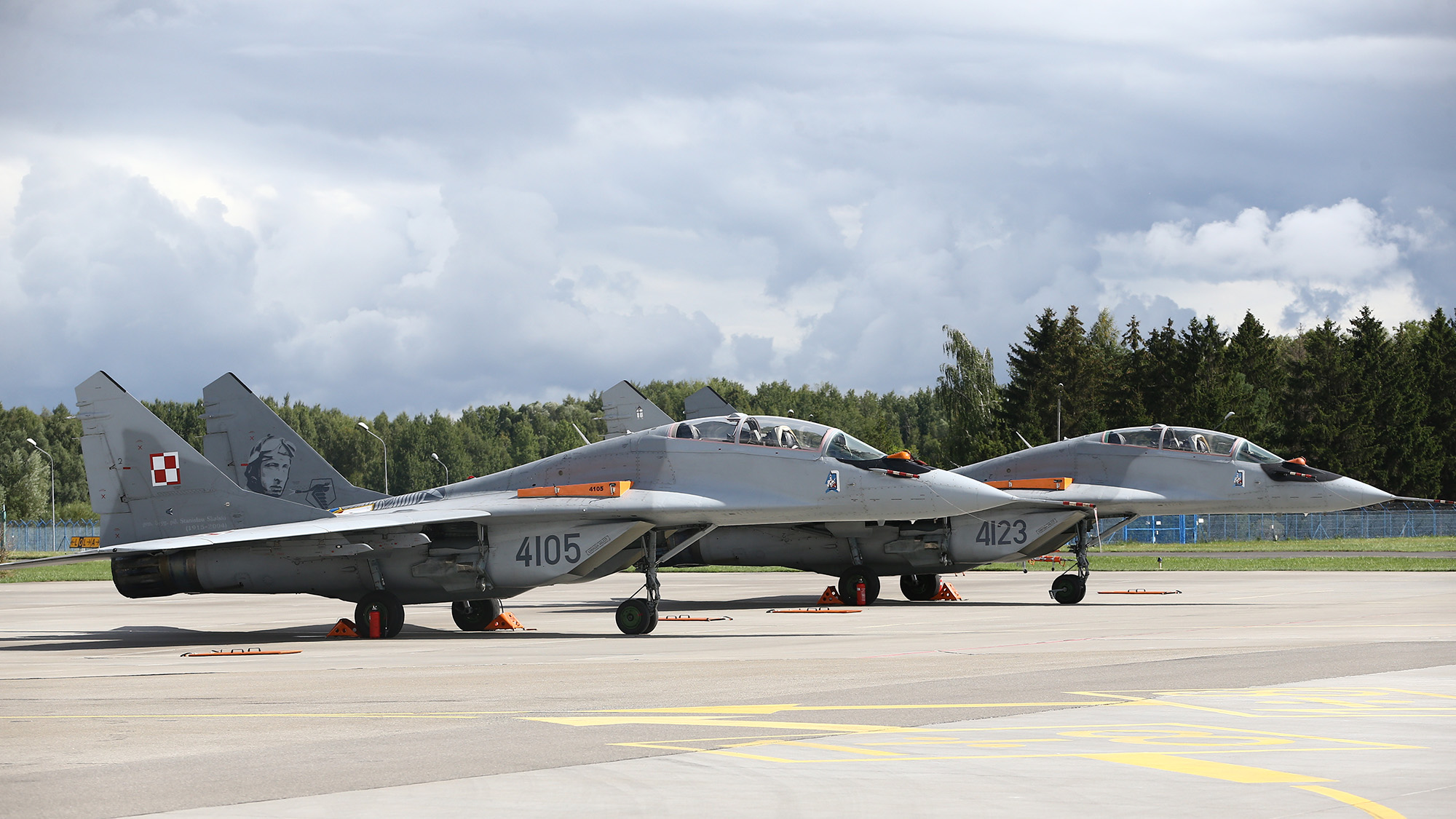 While the United States and other NATO member nations have fulfilled a number of Ukrainian President Volodymyr Zelensky's requests to help hinder Russian forces, they have stopped short of certain measures they say could risk an escalation in the war.
These are some of Zelensky's asks left unfulfilled:
No-fly zone: Zelensky has repeatedly called on Ukraine's allies to establish a no-fly zone over the country. A no-fly zone is an area where certain aircraft cannot fly for any number of reasons. In the context of a conflict such as the one in Ukraine, it would probably mean a zone in which Russian planes were not allowed to fly, to prevent them from carrying out airstrikes against Ukraine.
The problem with military no-fly zones is that they have to be enforced by a military power. If a Russian aircraft flew into a NATO no-fly zone, then NATO forces would have to take action against that aircraft. Those measures could include shooting the plane from the sky. That would, in Russia's eyes, be an act of war by NATO and would likely escalate the conflict.
S-300 missile defense systems: This surface-to-air missile system can strike targets that are both higher in altitude and farther away than Stinger missiles are designed for.
Slovakia has preliminarily agreed to provide Ukraine with a key Soviet-era air defense system to help defend against Russian airstrikes, according to three sources familiar with the matter. But the US and NATO are still grappling with how to backfill that country's own defensive capabilities, and the transfer is not yet assured.
MiG fighter jets: Earlier this month, the US dismissed a proposal from Poland to transfer its MiG-29 fighter jets to the United States for delivery to Ukraine.
Pentagon press secretary John Kirby said in a statement that the US did not believe Poland's proposal was "tenable" and that it was too risky.
"The prospect of fighter jets 'at the disposal of the Government of the United States of America' departing from a U.S./NATO base in Germany to fly into airspace that is contested with Russia over Ukraine raises serious concerns for the entire NATO alliance," Kirby said.
Read more about the aid that Western allies have provided so far here.
4 hr 49 min ago
Mayor of Velykoburlutska community released after being "captured" by Russians, Kharkiv governor says
From CNN's Olena Mankovska and Francesca Giuliani-Hoffman
Viktor Tereshchenko, mayor of the Velykoburlutska community in Ukraine's northeastern region of Kharkiv, has been released, according to a video message from Kharkiv Regional State Administration's head Oleh Syniehubov on Friday.
On Thursday, Syniehubov said Tereshchenko was "captured" by Russian forces.
"The enemy's released Viktor Tereshchenko. … I've just spoken to him. He is at hospital receiving treatment. He is a good man who stands firm and sticks up for his community, his residents, his electorate. Once again this only proves that the enemy shall not prevail and no one will surrender an inch of our land to the enemy," Syniehubov said in the Friday statement.
He said that Russian forces did not allow the delivery of aid along the evacuation corridors, so local officials set up logistical aid centers in nearby towns that needed it most.
On Tuesday, the mayor of Melitopol, Ivan Fedorov, who had been detained by Russian forces, was freed as part of a prisoner swap. On Sunday Yevhen Matveyev, the leader of Dniprorudne, a small city north of Melitopol, was abducted by Russian troops, according to Ukraine's Foreign Minister Dmytro Kuleba.
CNN could not independently confirm the claim.
3 hr 46 min ago
Former US Presidents Bush and Clinton visit Ukrainian church in Chicago to show "solidarity"
From CNN's Mary Kay Mallonee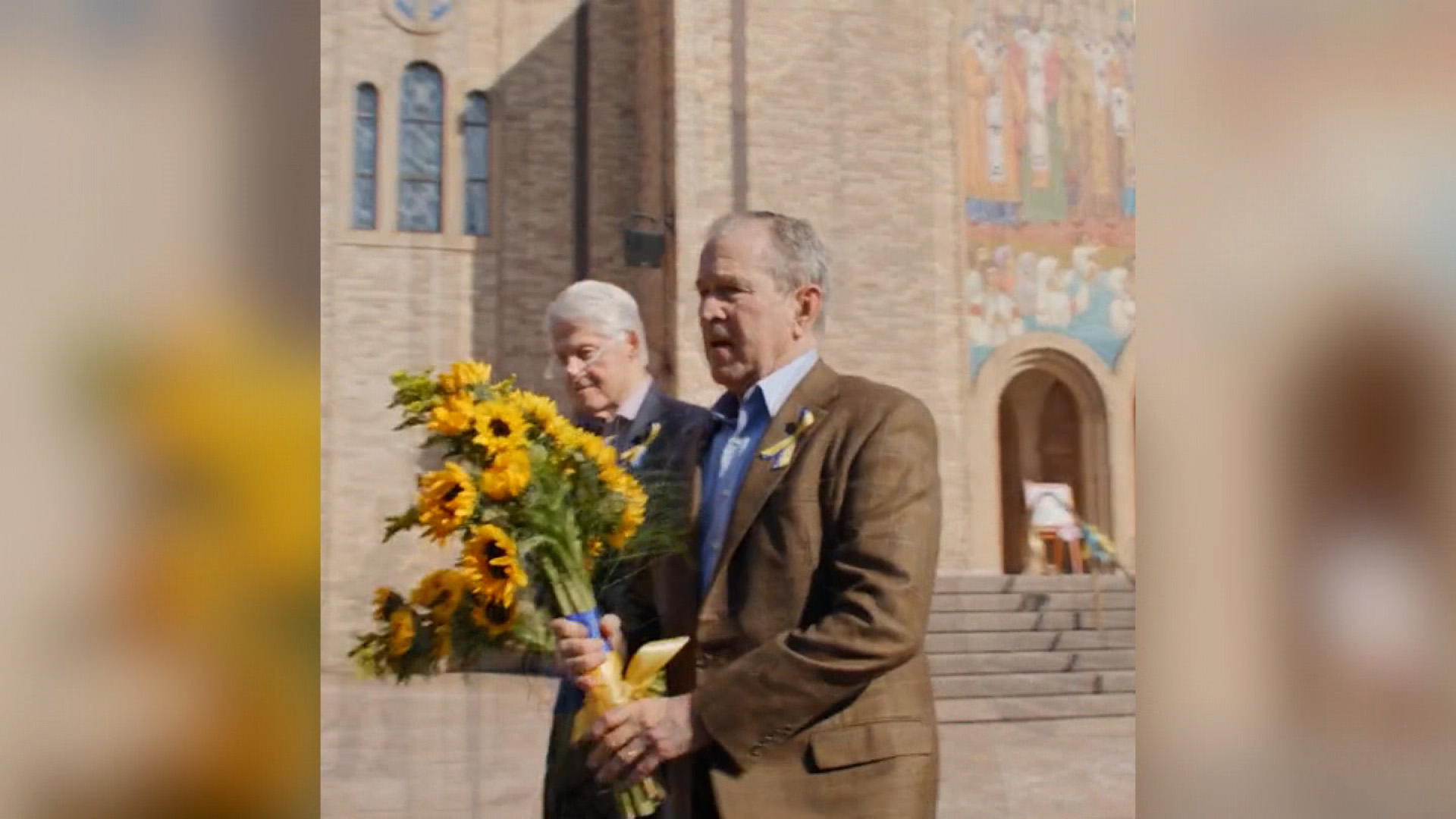 Former US Presidents George W. Bush and Bill Clinton visited a Ukrainian church in Chicago to "show solidarity with the people of Ukraine."
The presidents both tweeted video of their visit to Saints Volodymyr & Olha Ukrainian Catholic Church, each carrying bouquets of bright yellow sunflowers, the national flower of Ukraine.
"America stands united with the people of Ukraine in their fight for freedom and against oppression," Clinton tweeted.
"America stands in solidarity with the people of Ukraine as they fight for their freedom and their future," according to a tweet from The George W. Bush Presidential Center.
5 hr 24 min ago
From drones to missiles, here's the military aid that allies are sending to Ukraine
From CNN's Paul LeBlanc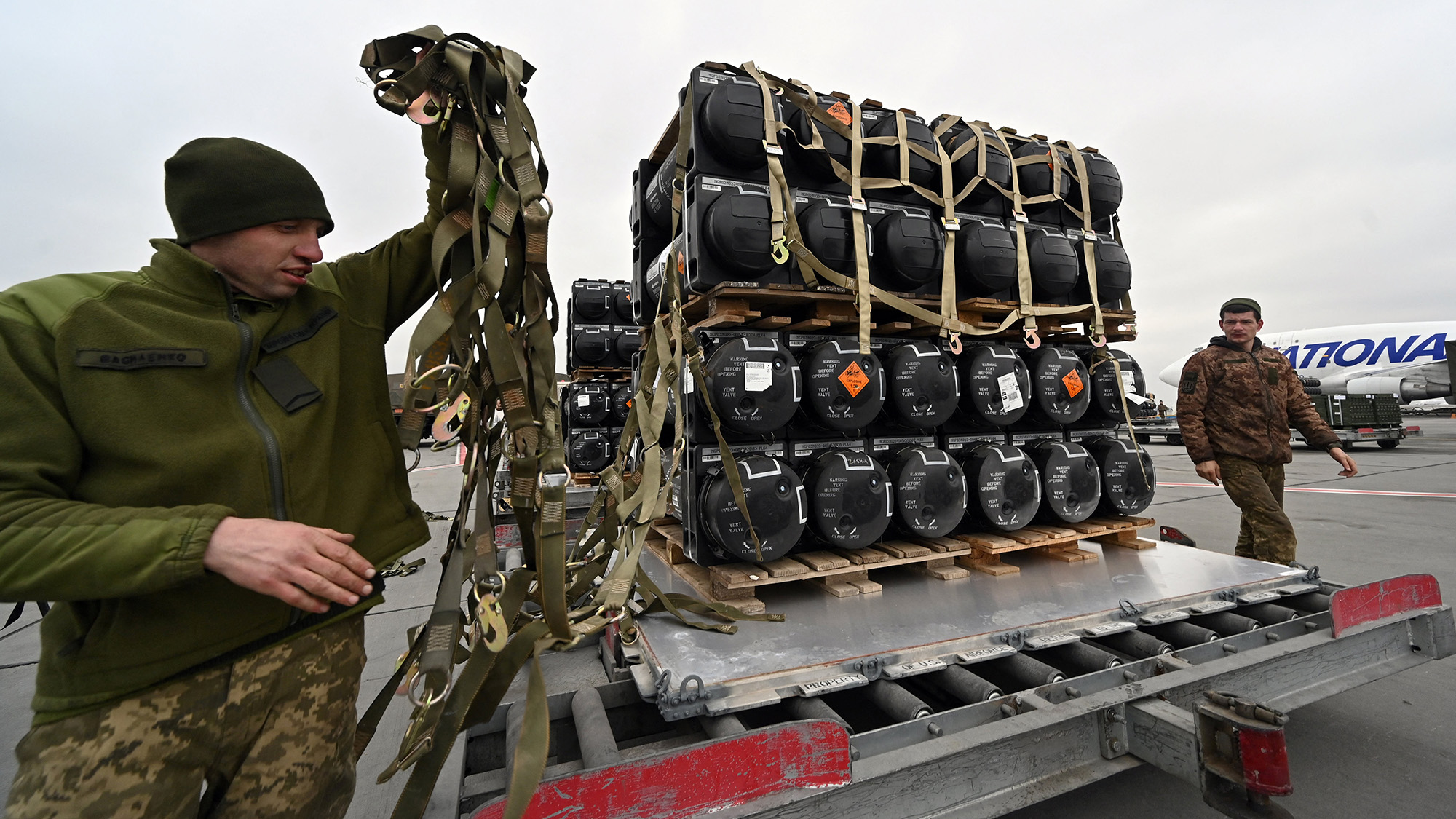 Ukrainian President Volodymyr Zelensky has implored Western allies to provide his country with military aid as Russia continues its unprovoked invasion.
The US and other NATO member nations have fulfilled a number of Zelensky's requests, while stopping short of certain measures they say could risk an escalation in the war.
The military aid provided to Ukraine so far includes weapons that range from portable drones to complex, long-range missile systems. Here's what's been sent:
Switchblade drones: Small, portable, so-called kamikaze drones that carry warheads and detonate on impact. The smallest model can hit a target up to six miles away, according to the company that produces the drones, AeroVironment. It's unclear which size model the US will send to Ukraine.
Stinger anti-aircraft missiles: These heat-seeking, anti-aircraft missiles have a range of about five miles and 11,000 feet. Critically, Stinger missiles can distinguish between enemy and friendly aircraft.
Javelin anti-tank weapons: This guided missile system can be shoulder-fired by a single solider and has a range of up to 8,200 feet.
AT-4 anti-armor systems: These Swedish anti-armor weapons are "lightweight, single-shot and fully disposable," according to the company that produces them, Saab Bofors Dynamics.
Patriot air defense missile system: The US also delivered two missile defense systems to Poland this month intended to deter Russia and boost Poland's security amid Western concerns that the Ukraine conflict could spill into NATO-aligned nations.
The Patriot air defense missile system — Patriot stands for "Phased Array Tracking Radar to Intercept of Target" — is designed to counter and destroy incoming short-range ballistic missiles, advanced aircraft and cruise missiles.
The battery includes missiles and launching stations, a radar set that detects and tracks targets, and an engagement control station, according to the Missile Defense Advocacy Alliance.
Continue reading the full story here: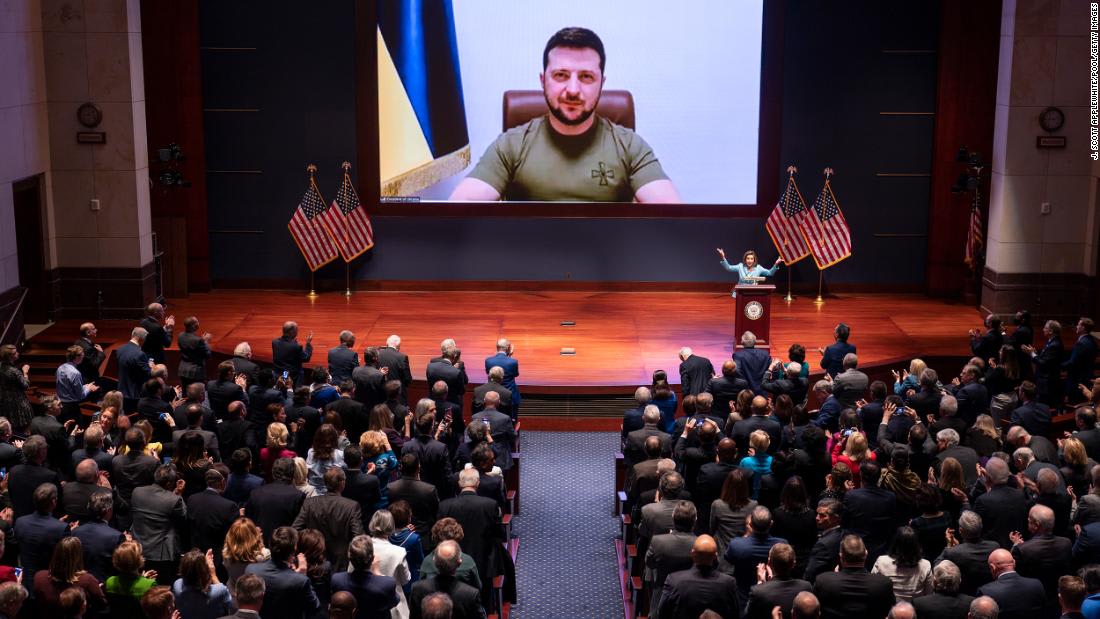 5 hr 57 min ago
This US Army veteran is teaching Ukrainians in Lviv how to treat war wounds
A US Army veteran is in western Ukraine teaching first-aid classes to Ukrainian civilians, in case they need to treat wounds during the war with Russia.
Dr. Robert Lim is among the medics and doctors that the Global Surgical and Medical Support Group is bringing to Ukraine.
Lim, who was an Army surgeon for 20 years, headed up a training at a local gym in Lviv, where he instructed teachers, engineers, dancers and even high school students how to use tourniquets and keep an injured person breathing.
"I'm afraid, because we are not prepared. I am not a professional soldier, but I understand it is better to meet the enemy being prepared and with the right skills," civil engineer Marian Pakholok told CNN's Scott McLean.
Lim also taught other doctors and medical professionals how to treat wounds rarely seen during peacetime.
Dr. Tania Boychuk, a dermatologist, told McLean she is planning on joining the military.
"I plan to go to the war front," she said, adding that she has close friends who are there as well.
6 hr 37 min ago
UN and partners complete first humanitarian aid convoy to Sumy, Ukraine
From CNN's Richard Roth 
The United Nations announced Friday that alongside its partners in Ukraine it completed the first convoy of humanitarian aid to the city of Sumy, which is located in the northeast of the country.
"The 130 metric tons of essential aid includes medical supplies, bottled water, ready-to-eat meals and canned food that will directly help some 35,000 people. In addition to these items, the convoy brought equipment to repair water systems to help 50,000 people," UN Crisis Coordinator for Ukraine Amin Awad said in a statement Friday. "The UN Office for the Coordination of Humanitarian Affairs (OCHA) facilitated the dialogue for the safe passage of the humanitarian convoy."
Supplies were provided by the World Food Programme, UN Refugee Agency, World Health Organization, and the UN Children's Fund, as well as the nongovernmental organization People in Need, according to the statement.  
"We count on the continued cooperation of all parties as the United Nations and our humanitarian partners scale up our relief operation to respond to the grave humanitarian crisis caused by this war. We are here to help the most vulnerable civilians caught in the fighting, wherever they are in Ukraine. We need unhindered and sustained humanitarian access to do so," Awad added.
7 hr 3 min ago
Health workers struggle to get crucial insulin to people with diabetes in Ukraine's war zones
From CNN's Tasnim Ahmed
Continuing to face attacks from Russian forces, Ukrainian hospitals are strained by growing numbers of casualties and finite medical supplies. There are shortages across all types of medication, but limited access to insulin supplies has led to an uptick in conditions related to uncontrolled diabetes.
"There's been significant shortages of insulin across the country and many, many actors and people in different areas calling out for that supply," Kate White, an emergency program manager for Doctors Without Borders, told CNN.
According to Valentina Ocheretenko, chair of the Ukrainian Diabetes Foundation, the country has enough insulin to supply its needs for three months. The challenge is getting it to the people who need it.
There are over 2.3 million people with diabetes in Ukraine, according to the International Diabetes Federation, making up 7.1% of the population. For some people with type 1 diabetes, immediate access to insulin is a necessity for survival.
"We have enough insulin in the country, and a lot of humanitarian aid … is bringing more and more, but we have big problems with logistics," Ocheretenko told CNN.
Most of Ukraine's insulin supply is imported or made domestically by two pharmaceutical manufacturing companies, Indar and Farmak, both of which are in Kyiv, said Dr. Orest Petrychka, medical director of the Clinical Center of Endocrinology Lviv. Insulin is provided to people who need it for free in Ukraine.
"About the patients in the conflict zones, I am afraid they can be cut off from the supply of insulin … because of actions of targeted terror held by Russian troops or by the physical impossibility to supply this insulin to patients … from the pharmacy," Petrychka told CNN.
Continue reading the full story here: