It's strange not to see vehicles stacked on Interstate 35 access roads leading into the Farm-to-Market Road 306/Creekside Crossing intersection, but that was so at 10:30 a.m. Thursday.
The new Displaced Left Turn configuration at the intersection opened Monday, much to the delight of area residents who endured months of detours in the area and wait times at traffic signals that sometimes lasted 30 minutes or more.
"It's so much easier," one driver said. "I was there last night trying to get into Creekside, and it was way faster than it's ever been."
Construction on the $18.4 million project managed by Hunter Industries began in September 2019 and won't be completely finished until early this summer, Texas Department of Transportation officials said. But it's already made a difference.
"The city of New Braunfels, TxDOT and our area engineer, Will Lockett, has worked hard to get this done," said Precinct 3 Comal County Commissioner Kevin Webb. "Even though it's been sort of a long process, we think the end result has been worthwhile.
"Feedback from the public has been great. Instead of waiting through several lights they now can turn left while other traffic heads (west) at the same time. While we had a few talk to us about that change, in general they have been very positive."
Two new partially displaced left turn lanes on westbound FM 306 (Creekside Crossing) at I-35 are operational, with a signal at the northbound turnaround lane allowing that traffic to flow easily under the overpass into southbound I-35 access lanes.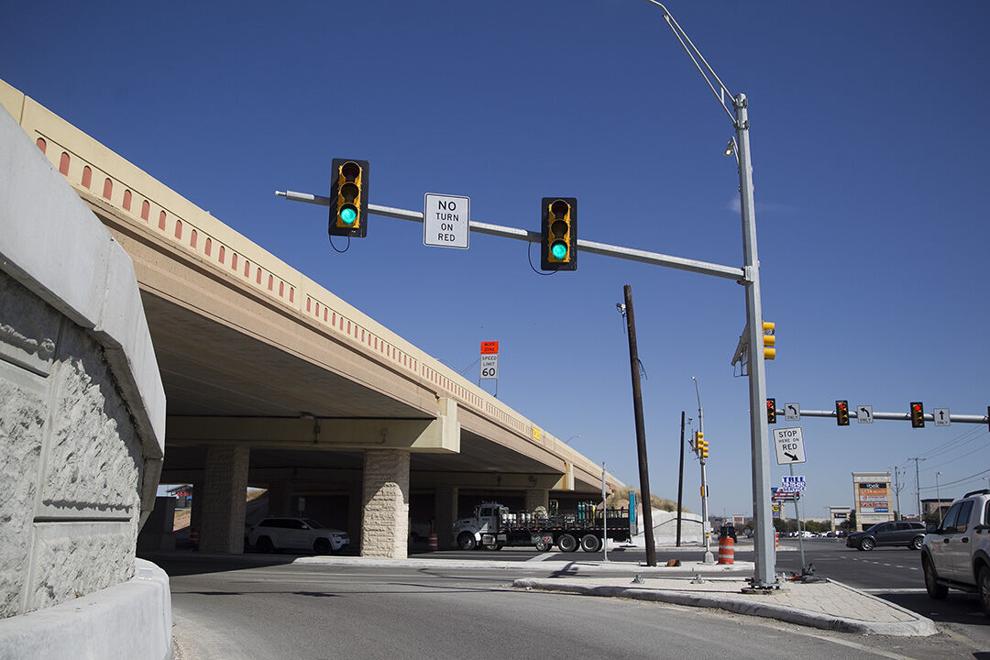 Access to Creekside shopping venues is now easier — especially for the right hand access lane usually snarled in front of Buc-ee's. It now veers right and forms a single lane leading up to a signal that monitors traffic headed eastbound on Creekside Crossing.
The middle signals steadily flow traffic on FM 306 eastbound and westbound lanes straight underneath the I-35 overpass. The signals are timed in a way that allows more traffic on each rotation through the intersection and from I-35 access roads north and south of FM 306.
The new setup has been confusing to some drivers. Of the four accidents at the location since Monday, only one, just after 8 a.m. Thursday, might be attributed to the new DLT.
David Ferguson, city communications coordinator, said a vehicle traveling westbound on FM 306 was struck by oncoming traffic when it attempted to turn south onto the I-35 access road.
"Instead of taking the dedicated left turn lane, it turned into traffic with a green light there," Ferguson said, adding two people were transported to area hospitals as a result.
TxDOT said off-duty police officers will be assisting drivers for the first several days as they adjust to the new configuration. NBPD units cleared Thursday's accident and will continue to monitor traffic as normal, Ferguson said.
"The New Braunfels Police Department would like people in the area to understand there is a new traffic pattern that needs to be learned," Ferguson said. "People need to be patient, slow down, put their cell phones away and watch for the signage — because there is plenty of signage instructing drivers on how to navigate the new layout.
"Especially (westbound FM 306 drivers) need to know they can no longer turn left (from the center lanes) going underneath the highway. They need to take the dedicated left hand lanes to access the southbound access road."
At night, reflective signage embedded in the roadway points drivers to the right lanes to access the interstate, continue under the overpass or veer right and north of the intersection. It helps to observe the signage, and more than one driver on Thursday was spotted taking the wrong lane because of cell phones. Webb said the design is unconventional but in time, drivers will become accustomed to it.
"Once they do, traffic should flow more freely and it should reduce wait times significantly."
For more on the DLT, visit my35.org/alamo-project-guadalupe-river-fm306.htm. For more on area TXDOT projects, visit txdotsanantonio.blogspot.com.