5 hr 26 min ago
Putin nuclear announcement "very unusual" but intended as "deterrence," top US intelligence official says  
From CNN's Katie Bo Lillis
Russian President Vladimir Putin's announcement that he was elevating the readiness status of his nuclear forces was "very unusual," Director of National Intelligence Avril Haines told lawmakers on Tuesday, but she said that it was better understood as messaging rather than an immediate threat to the United States. 
"We obviously take it very seriously when he's signaling in this way," Haines said. "But we do think [that] he is effectively signaling, that he's attempting to deter" NATO from getting involved in the conflict in Ukraine, she said during testimony before the House Intelligence Committee. "That's been his main purpose in doing so."
Haines also said that the Russian announcement that Russian strategic forces would be placed on "special alert status" did not refer to a "technical term as we understand it within their system." 
The intelligence community has closely tracked any Russian strategic movements, Haines said, but "we're not seeing something at this stage that indicates that he is doing something different than what we've seen in the past."
5 hr 28 min ago
CIA director: Putin "proven wrong" on pre-invasion assumptions about success in Ukraine  
From CNN's Geneva Sands
Russian President Vladimir Putin is "determined to dominate and control Ukraine" and went to war based on a set of assumptions that led him to believe Russia would have a favorable outcome, CIA Director Bill Burns testified Tuesday. 
Putin believed several assumptions about use of force, including the belief that Ukraine was weak and easily intimidated. Second, Putin believed that Europeans, especially the French and Germans, were distracted and risk-averse.  
Third, he believed he had "sanctions-proofed" his economy and created a large war chest to foreign currency reserves.  
And fourth, he was confident that he had modernized his military and they were capable of a quick decisive victory at minimal cost.  
"He's been proven wrong on every count," Burns said. 
Asked about what it would take for Putin to change his calculus in Ukraine, Burns offered a sober assessment, saying that "this is a matter of deep personal conviction for him." 
Putin has "been stewing in a combustible combination of grievance and ambition for many years," he said, adding that the Russian president has created a system in which his own circle of advisers is "narrower and narrower." 
The global Covid-19 pandemic has also made his circle even smaller, Burns said during a House Intelligence Committee hearing on worldwide threats.  
Burns later predicted an "ugly next few weeks" with "scant regard for civilian casualties," given Russia is unlikely to be able to install a puppet regime or pro-Russian leadership in the face of opposition from the Ukrainian people. 
"The Ukrainians are going to continue to resist fiercely and effectively," he added. 
5 hr 46 min ago
US officials "very focused" on potential for ransomware attacks during Ukraine war, NSA chief says
From CNN's Sean Lyngaas
The US government is "very focused" on cybercriminals who might conduct ransomware attacks against US organizations during the Ukraine war, General Paul Nakasone, head of the National Security Agency, told the House Intelligence Committee on Friday.
US officials are also wary of the potential of Russian government-backed cyber operations aimed at Ukraine to inadvertently hamper US organizations, Nakasone and FBI Director Christopher Wray said at an annual hearing on worldwide threats to the US homeland.
"Even if the Russians think they have carefully calibrated some form of malicious cyber activity against our critical infrastructure, the reality is they've shown a history of not being able to manage the effects of it as well as they intend — even if you give them the benefit of the doubt, which I tend not to," Wray told lawmakers.
Wray cited a 2017 cyberattack known as NotPetya that started by infecting Ukrainian accounting software but soon spread to major companies around the world, causing an estimated $10 billion in damages. The Justice Department later blamed Russia's GRU military intelligence agency for the hack.
US officials say there aren't any credible and specific threats to the US homeland stemming from Russia's invasion of Ukraine. But they have been warning for months about potential retaliatory hacking over Western sanctions on the Kremlin.
5 hr 44 min ago
US intelligence assessment from January states Russia "does not want a direct conflict" with US
From CNN's Katie Bo Lillis
The US intelligence community assessed that Russia "does not want a direct conflict with US forces," according to an annual unclassified threat assessment completed in late January and published by the Office of the Director of National Intelligence on Tuesday. 
"Russia seeks an accommodation with the United States on mutual noninterference in both countries' domestic affairs and U.S. recognition of Russia's claimed sphere of influence over much of the former Soviet Union," according to the document. 
The assertion comes as tensions between Russia and the United States have hit their lowest point in decades amid Russia's invasion of Ukraine — and as Russian President Vladimir Putin has publicly invoked the specter of nuclear weapons, unnerving U.S. officials. 
Moscow "views its nuclear capabilities as necessary for maintaining deterrence and achieving its goals in a potential conflict against the United States and NATO, and it sees a credible nuclear weapons deterrent as the ultimate guarantor of the Russian Federation," according to the report.
6 hr 38 min ago
The US has admitted nearly 700 refugees from Ukraine so far
From CNN's Priscilla Alvarez
Of the nearly 6,500 refugees who have been admitted to the US since October, 692 of them were from Ukraine as of Feb. 28, according to the latest data from the State Department.
Refugee resettlement advocates have urged US President Joe Biden's administration to facilitate the resettlement of Ukrainians in the United States as the number of people fleeing Ukraine climbs to over two million. 
Secretary of State Antony Blinken told CNN's Jake Tapper on Sunday that the US is willing to accept refugees. 
"The United States is committed to doing everything we can, first of all, to support the countries bearing the immediate burden of taking in Ukrainians, and then, as appropriate if people seek refugee status in the United States, of course, we will look at that and I'm sure act on that," he said.
Most people fleeing Ukraine have spilled into Poland, according to the United Nations refugee agency.
6 hr 39 min ago
German federal prosecutor launches probe into Ukraine war crimes
From CNN's Nadine Schmidt
Germany's federal prosecutor has opened a so-called "structural investigation" into suspected war crimes committed by Russian troops since the invasion of Ukraine, the prosecutor's office told CNN on Tuesday. 
"The Federal Prosecutor's Office has opened a so-called structural investigation in connection with the international armed conflict between Russia and Ukraine," a statement sent to CNN said. 
"There are concrete indications that war crimes may have already been committed, in particular war crimes involving the use of prohibited methods of warfare against Ukrainian civilians as well as civilian objects," the statement said.
Some more context: A structural investigation does not target particular suspects, Germany's federal prosecutor in Karlsruhe said, but it aims to gather evidence of the suspected crimes and identify the structures behind them. The evidence can then be used in future criminal proceedings against individual suspects, Germany's federal prosecutor explained to CNN. 
In the past Germany has repeatedly prosecuted atrocities committed abroad, including the war crimes in Syria. In January, a German court sentenced a former Syrian army colonel to life in prison, in the first-ever torture trial against President Bashar al-Assad's regime.  
6 hr 27 min ago
Humanitarian situation around Kyiv remains challenging, according to military administration
From CNN's Tim Lister and Julia Kesa in Kyiv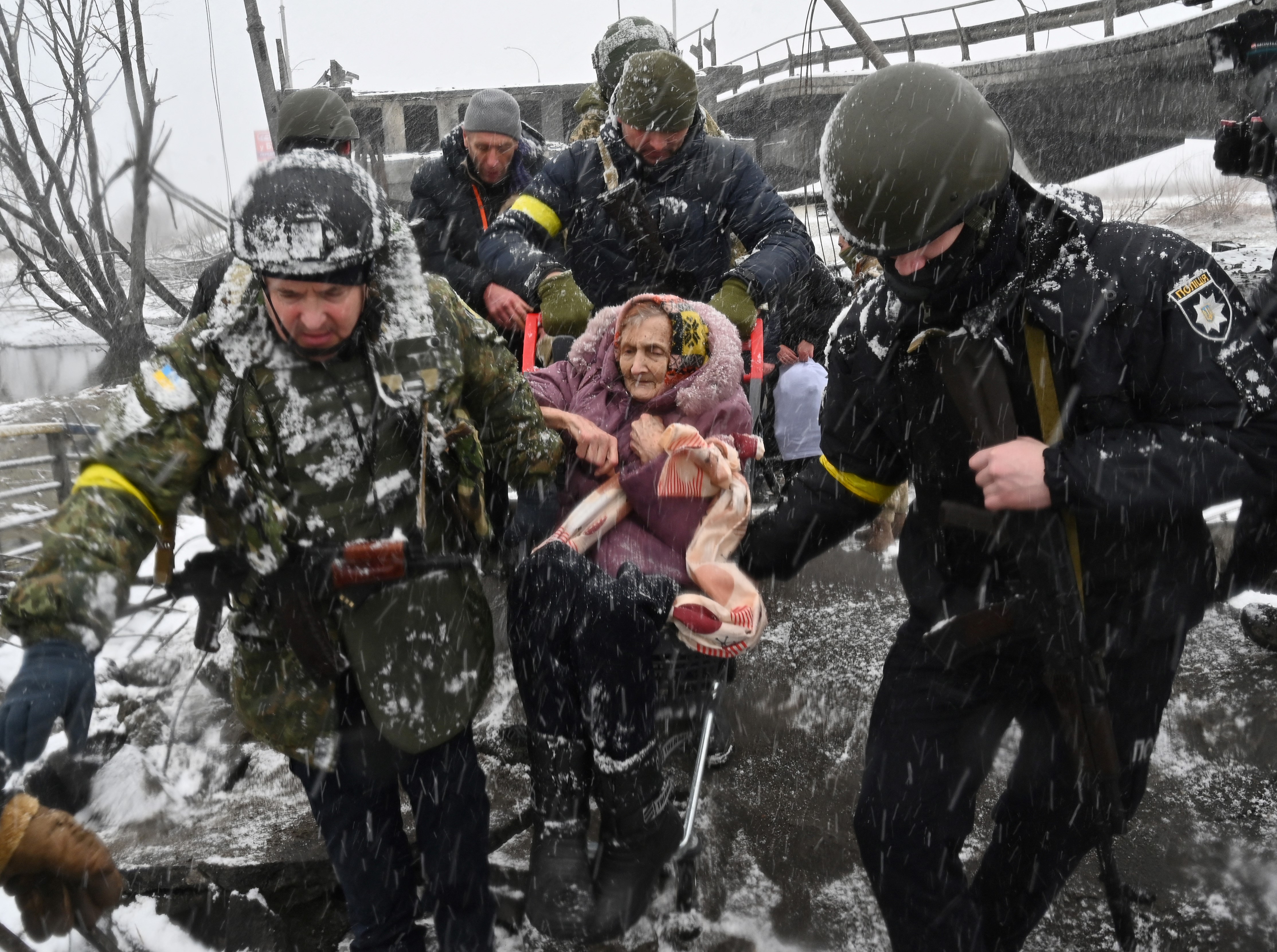 The head of the Kyiv regional military administration, Oleksiy Kuleba, said that the humanitarian situation in areas around the city remains difficult.
"The main issue today remains humanitarian aid. Bucha, Irpin, Gostomel, Makariv, Borodyanka, Vorzel — residents of these settlements are forced to stay in bomb shelters for days without water and food. The occupiers do not give humanitarian corridors, do not give guarantees," Kuleba said.
The five districts are to the north and west of Kyiv.
"Russian occupiers keep shelling residential areas. They keep bringing more military vehicles," Kuleba said in a video statement on YouTube. 
"We demand silence every day, every hour, every minute. We will promptly and immediately send help and evacuate our people," he said.
"We are doing everything to stop the humanitarian catastrophe in Kyiv region," he added.
More background: Russia had proposed a ceasefire Tuesday for five Ukrainian cities.
Ukrainian authorities have said that a long-awaited convoy of humanitarian aid for the besieged city of Mariupol on the south coast appears to have come under fire. CNN has been unable to verify the status of the convoy.
The Russian defense ministry said more than 700 people have been evacuated along an agreed evacuation route out of the northeastern Ukrainian city of Sumy on Tuesday. 
6 hr 26 min ago
EU plans to slash Russian gas imports by two-thirds this year and aims to phase out dependence before 2030
From CNN's Chris Liakos and Mark Thompson
The European Union has outlined plans to eliminate its dependence on Russian energy.  
Speaking on Tuesday, it says it will cut Russian gas imports by two-thirds this year, and eliminate its overall need for Russian oil and gas "well before 2030."
The EU said in a press release it plans to eliminate its dependence on Russian gas by "diversifying gas supplies, via higher LNG and pipeline imports from non-Russian suppliers, and larger volumes of biomethane and renewable hydrogen production and imports; and, reducing faster the use of fossil fuels in our homes, buildings, industry, and power system, by boosting energy efficiency, increasing renewables and electrification, and addressing infrastructure bottlenecks."
The European Union depends on Russia for about 40% of its natural gas. Russia also supplies about 27% of the oil the EU imports each year.
Russian deputy prime minister Alexander Novak said Monday Russia could cut off the supply of gas to Germany via the Nord Stream 1 pipeline in retaliation for Scholz blocking the Nord Stream 2 pipeline project.
The EU also announced a series of measures to counter soaring energy prices which the bloc has been facing for several months, now exacerbated by supply disruption worries, including potential temporary price limits and short-term state aid to companies affected by high energy prices.
EU Commission President Ursula von der Leyen said: "We must become independent from Russian oil, coal and gas. We simply cannot rely on a supplier who explicitly threatens us. We need to act now to mitigate the impact of rising energy prices, diversify our gas supply for next winter and accelerate the clean energy transition."
EU Energy Commissioner Kadri Simson said that the EU has "sufficient amounts of gas" for the remaining weeks of this winter but that "we need to replenish our reserves urgently for next year." 
"The Commission will therefore propose that by 1 October, gas storage in the EU has to be filled up to at least 90%," she added.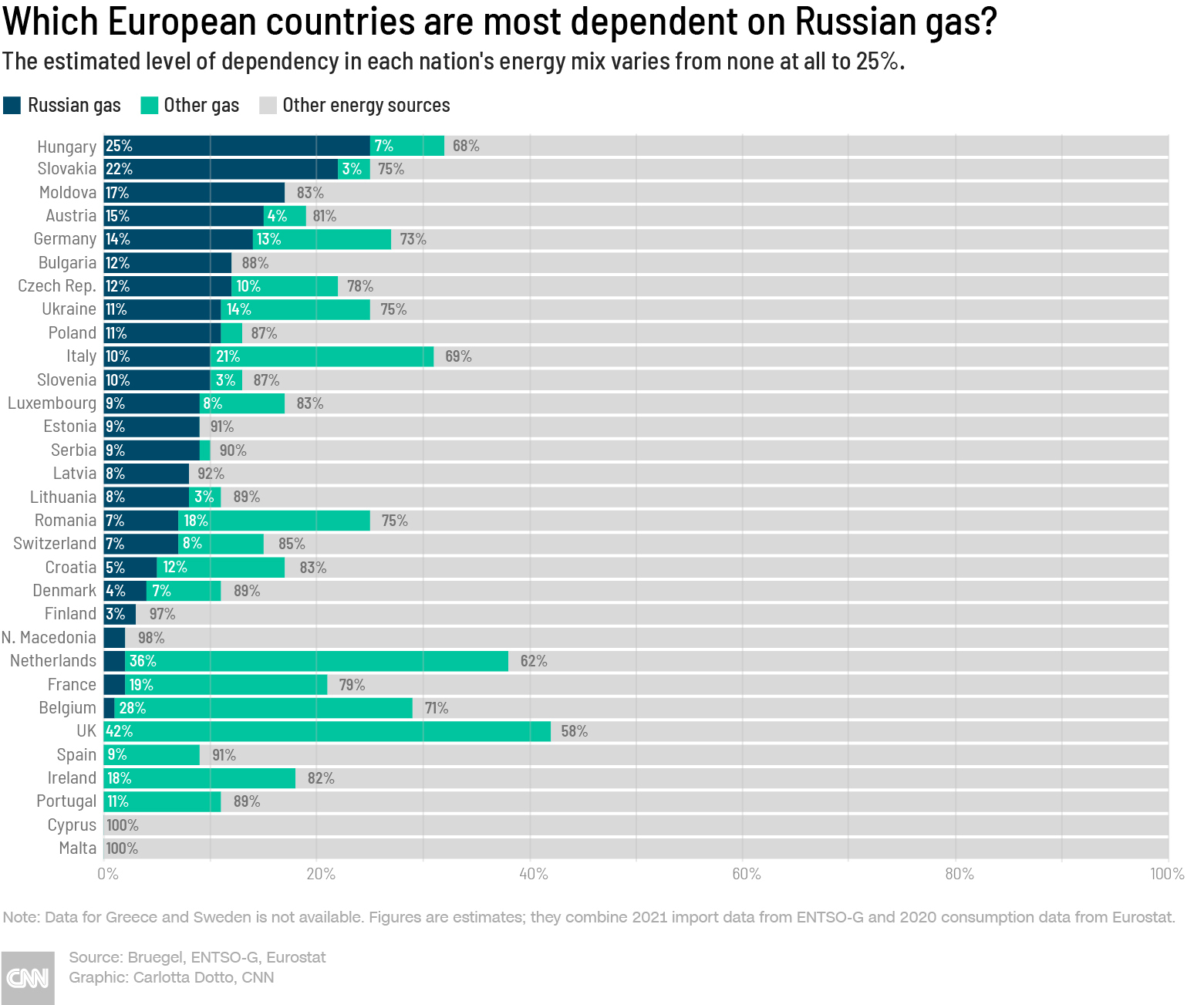 6 hr 51 min ago
US House Speaker Pelosi says the House will move ahead with legislation banning Russian oil
From CNN's MJ Lee
US House Speaker Nancy Pelosi announced to her caucus this morning that the House would be moving ahead with Russian oil ban legislation and that the bill is expected to include other items, according to a Democratic aide.
She also told her colleagues that the White House has been telling her for days that the President would be announcing the ban. Notably, White House Press Secretary Jen Psaki told reporters yesterday that Biden had yet to make a decision on this front.
More on this: President Biden is now expected to announce later this morning a ban on Russian oil, natural gas and coal imports to the US.
House Majority Leader Steny Hoyer has previously said the bill could be on the floor this week.