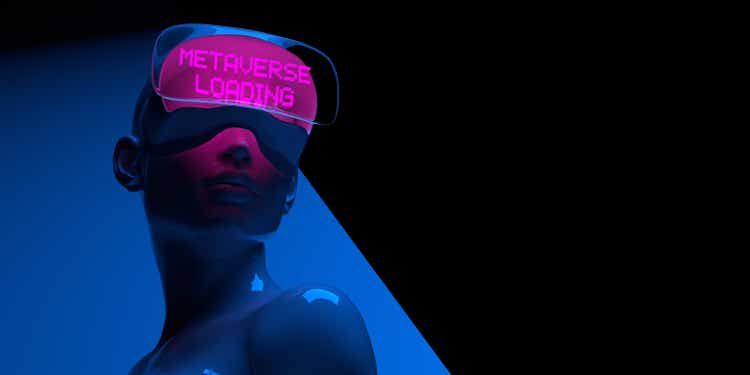 Investment thesis
Almost a year ago, I wrote a bearish article on SA about a U.S. amateur esports broadcaster named Super League Gaming (NASDAQ: NASDAQ:SLGG). The company looks very different today as it has completed several acquisitions and its 2021 revenues rose by more than fivefold. Super League is trying to reposition itself as a Metaverse company and this word is used a total of 11 times in its latest corporate presentation as well as 57 times in its 2021 annual report. However, I'm still bearish as the profitability of the business is still deep in the red. Super League closed 2021 with a net loss of $20.7 million and it had just $14.5 million in cash and cash equivalents as of December. Considering the market valuation stands at $68.5 million as of the time of writing, I think that there could be significant stock dilution ahead. Let's review.
Overview of the business and financials
According to Super League's latest corporate presentation, the company builds and operates metaverse worlds and content networks empowering creators. During its Q4 2021 earnings call, the company said that Metaverse gaming has been around for over 10 years and that it's been active in this space for 8 years. So, where is Super League's Metaverse business? Well, the products mentioned in the presentation are Minehut and an advertising campaign on Roblox Islands.
Minehut is a social and gaming portal with more than 5 million Minecraft players, making it the largest Minecraft server farm in North America. In October 2021, Super League acquired Roblox (NYSE: RBLX) advertisement platform Bloxbiz which reaches 25 million monthly players in some 75 games and experiences there. The sum of the deal was $6 million and can increase to up to $17.5 million depending on hitting revenue targets over the next two years.
In 2021, Super League also bought virtual production studio Virtualis as well as Bannerfy, a technology platform that connects creators and brands. I think the largest purchase during the year was game live streaming platform Mobcrush for $59.9 million in shares and Super League claimed the combined company would have a U.S. monthly viewing audience of 85 million as well as more than 7.7 billion annual U.S. video views across digital live streaming platforms. Looking at the 2021 key performance indicators, we can see that the combination with Mobcrush has allowed Super League to significantly increase the scale of its business.

The purchase of Mobcrush was completed on June 1 and the 2021 revenues of Super League soared to $11.7 million. Revenues from the newly acquired businesses came in at $5.7 million, thus accounting for almost half of that sum. The acquisitions boosted advertising and sponsorship revenues by $4.2 million, and Mobcrush accounted for $1.04 million in direct-to-consumer revenues through its Mineville and Pixel Paradise Minecraft servers.

How do we know that Mobcrush was the most important acquisition in 2021? Well, Super League provided pro forma results in its 2021 annual report that show how its financials would've looked like if the company was bought on January 1, 2020. We can calculate that Mobcrush had revenues of $6.52 million in 2020 and $3.3 million for the first five months of 2021.

However, we can also calculate that Mobcrush had a net loss of $10.3 million in 2020 and $5.6 million for the first five months of 2021.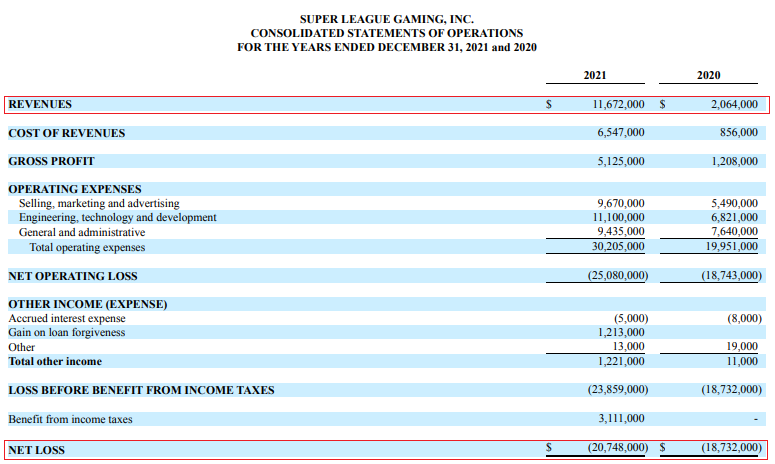 Overall, we can see that Super League has significantly diversified and grown its business over the past year. However, I remain bearish despite the share price losing 68% since the publication of my first article. The reason for this is that most of the revenue growth is coming from the purchase of companies that are unprofitable and the synergies they bring seem inconsequential considering the loss of Super League keeps widening.
Turning our attention to the balance sheet, we can see that goodwill and intangibles account for the vast majority of the asset base. Cash and cash equivalents stood at $14.5 million as of December and considering net cash used in operating activities during 2021 was $22.7 million, I think there could be a large capital increase in the next few months that leads to significant stock dilution.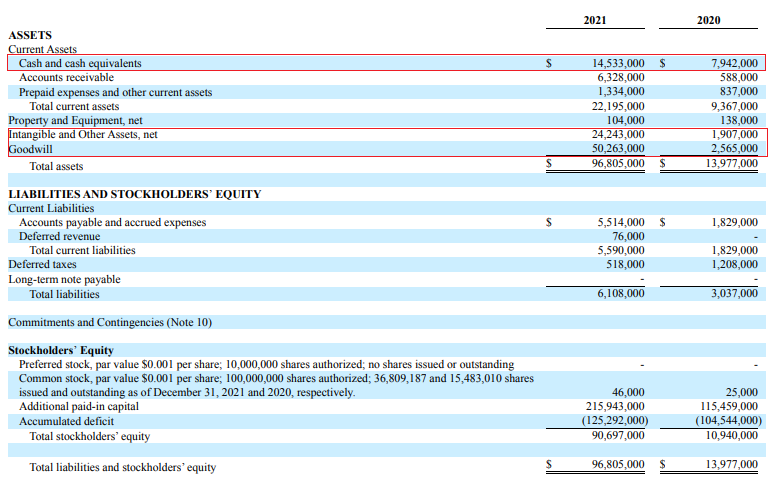 I think that Super League is a good short selling candidate in today's world of rising interest rates as many investors are likely to stay away from rapidly growing companies with negative operating cash flow. According to data from Fintel, the short borrow fee rate stands at 4.18% as of the time of writing.
Looking at the risks for the bear case, I think that the major one is that Super League could become an acquisition target as its large audience could attract interest from a major company in the Metaverse space. This is why I view this investment idea as a speculative sell, and I think that investors should open only small positions that are paired with call options to hedge against this risk. It's also possible that I'm wrong about the possible synergies of the newly acquired businesses and the margins of Super League improve significantly over the next few months. Considering the company's track record, this seems unlikely to happen.
Investor takeaway
Last year was transformative for Super League as it bought and integrated several companies. This allowed it to significantly increase its revenues as well as its audience, but the losses also increased. I think it's dangerous for the company to rely on inorganic growth that doesn't improve its profitability or cash flow situation during times of rising interest rates, and it seems I'm not alone considering the market valuation of Super League has decreased by 31.5% since the start of 2022.
I think there is no quick fix that can improve profitability or operating cash flow at Super League, and I expect the company to need a large capital increase in the next few months that could result in significant stock dilution if the share price doesn't increase by then. In my view, this makes Super League a compelling short selling candidate and the short borrow fee rate is just above 4%.
This article was written by
I have been investing in stocks for 13 years now, most of the time in my native Bulgaria. I have a bachelor's degree in Finance and a Master's degree in International Business and I like reading Pratchett and Michael Lewis. Regarding the opportunities that I cover, please take into account that I'm an admirer of legendary fund manager Peter Lynch so I tend to follow a lot of his investment philosophy. – Disclosure: I am not a financial adviser. All articles are my opinion – they are not suggestions to buy or sell any securities. Perform your own due diligence and consult a financial professional before trading.
Disclosure: I/we have no stock, option or similar derivative position in any of the companies mentioned, and no plans to initiate any such positions within the next 72 hours. I wrote this article myself, and it expresses my own opinions. I am not receiving compensation for it (other than from Seeking Alpha). I have no business relationship with any company whose stock is mentioned in this article.
Additional disclosure: I am not a financial adviser. All articles are my opinion – they are not suggestions to buy or sell any securities. Perform your own due diligence and consult a financial professional before trading.