23 min ago
US ambassador to UN says Russia plans to use banned weapons
From CNN's Adrienne Vogt
US Ambassador Linda Thomas-Greenfield called on other United Nations member states to hold Russia accountable for invading Ukraine in remarks at a UN General Assembly emergency special session on Ukraine, which she noted was the first such session in 40 years.  
Thomas-Greenfield said Russian forces are destroying infrastructure vital to the Ukrainian people, and Russian President Vladimir Putin seems poised to ramp up the invasion.
"We have seen videos of Russian forces moving exceptionally lethal weaponry into Ukraine, which has no place on the battlefield. That includes cluster munitions and vacuum bombs – which are banned under the Geneva Convention. We have seen the 40-mile-long lethal convoy charging toward Kyiv. President Putin continues to escalate – putting Russia's nuclear forces on high alert, threatening to invade Finland and Sweden. At every step of the way, Russia has betrayed the United Nations. Russia's actions go against everything this body stands for," she said.
Some background: A Russian thermobaric multiple rockets launcher was spotted by CNN team south of Belgorod, Russia, near the Ukrainian border early Saturday afternoon. They are sometimes called "vacuum bombs" because they suck in the oxygen from the surrounding air to generate a powerful explosion and a large pressure wave that can have enormous destructive effects. There is no evidence that thermobaric weapons have been used in the conflict in Ukraine.
Ukrainian President Volodymyr Zelensky has appealed for more help to face down the Russian assault as a 40-mile Russian military convoy continues to edge towards Kyiv.
What Biden has said: US President Joe Biden earlier today was asked if he believed Russia is committing war crimes, to which he responded, "We are following it very closely. It's too early to say that."
In her remarks, Thomas-Greenfield also praised Russian citizens protesting against the war and urged Russian soldiers to put down their weapons, placing the blame for the war solely at the feet of Putin.
"The truth is that this war was one man's choice and one man alone: President Putin. It was his choice to force hundreds of thousands of people to stuff their lives into backpacks and flee the country. To send newborn babies into makeshift bomb shelters. To make children with cancer huddle in hospital basements, interrupting their treatments, essentially sentencing them to death. Those were President Putin's choices. Now it is time to make ours," she said.  
A cutaway camera from the UN showed the Russian ambassador listening through headphones. 
She concluded by encouraging member states to vote to approve a resolution criticizing Russia for the Ukraine invasion.
CNN's Kristina Sgueglia contributed to this report.
Correction: An earlier version of this post mischaracterized remarks from the US ambassador to the UN. She said Russia is moving banned weaponry into Ukraine.
2 hr 28 min ago
Ukraine needs additional deliveries of weapons "now," foreign minister tells US
From CNN's Anastasia Graham Yooll and Niamh Kennedy in London
Ukrainian Foreign Minister Dmytro Kuleba told his American counterpart on Wednesday that Ukraine needs additional deliveries of weapons "now." 
In a tweet, Kuleba said he held a "productive call" with US Secretary of State Antony Blinken on the need to place further sanctions on Russia "until it stops its war against Ukraine and withdraws its forces." 
"I emphasized: Ukraine needs additional deliveries of weapons, especially for our Air Force, now," Kuleba said.
US Senate Foreign Relations Chair Bob Menendez told CNN on Tuesday that the US is providing a "pipeline of assistance into Ukraine," referencing a variety of lethal defensive systems that are being sent to the country. 
See Kuleba's tweet:
2 hr 16 min ago
New US Justice Department unit will target Russian oligarchs, their yachts and other assets
From CNN's Evan Perez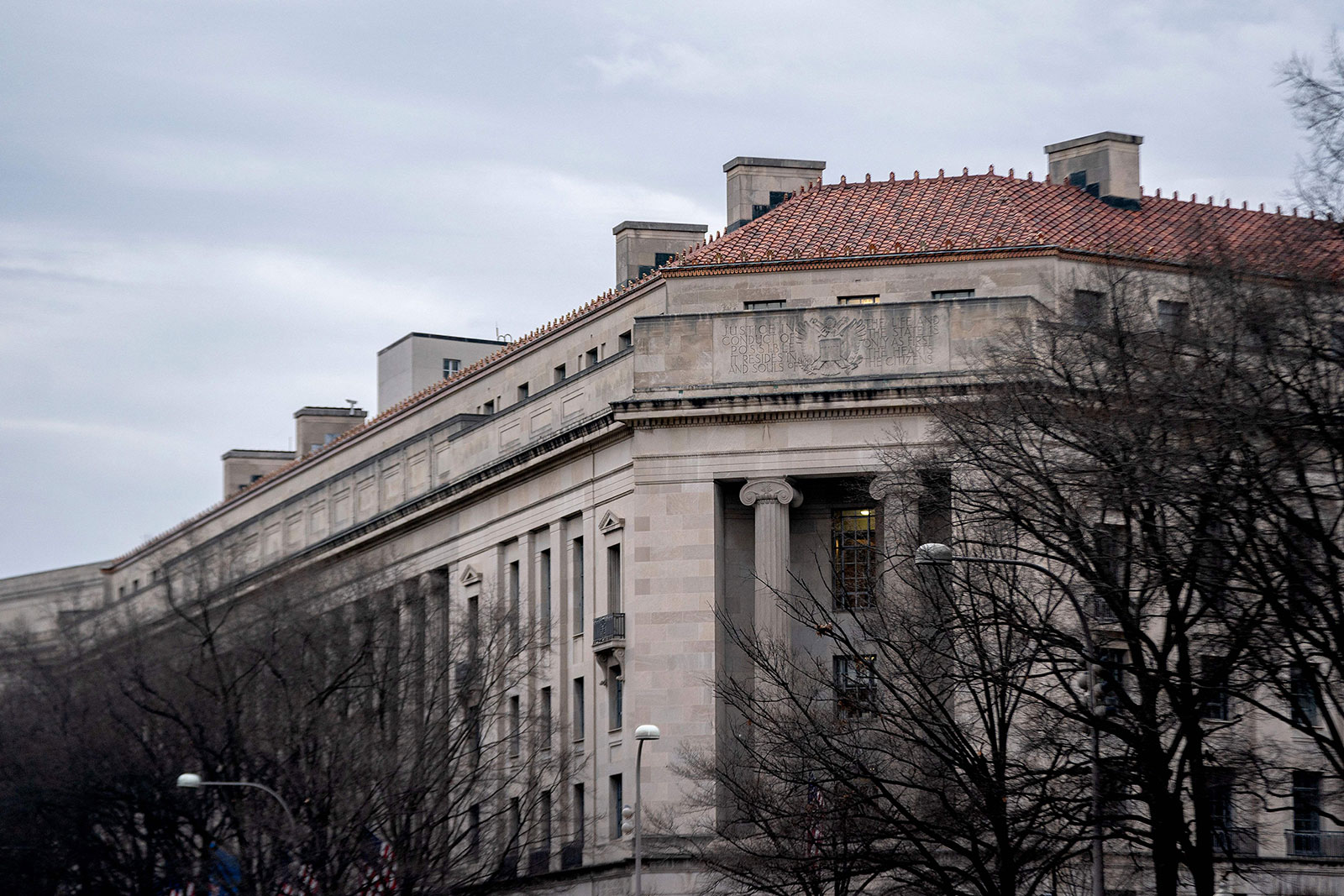 The US Justice Department said on Wednesday it is launching a special unit to help enforce sanctions against Russian government officials and oligarchs, targeting their yachts, jets, real estate and other assets.
The new task force, dubbed KleptoCapture, is part of the effort by the United States, European Union and other allies to punish Russia and Belarus for the ongoing Russian invasion of Ukraine, using export restrictions and other financial sanctions.
Attorney General Merrick Garland said the new task force will include prosecutors and federal agents and experts in money laundering, tax enforcement and national security investigations from the FBI, the IRS, the US Marshals Service and the US Postal Inspection Service.
"We will leave no stone unturned in our efforts to investigate, arrest, and prosecute those whose criminal acts enable the Russian government to continue this unjust war. Let me be clear: if you violate our laws, we will hold you accountable," Garland said in a statement.
US President Joe Biden, in his State of the Union speech Tuesday night, highlighted the effort: "To the Russian oligarchs and corrupt leaders who have bilked billions of dollars off this violent regime: No more."
"We are joining with our European allies to find and seize their yachts, their luxury apartments, and their private jets," he added.
2 hr 18 min ago
Ukrainian military capabilities losses outweigh Russian losses, sources say
From CNN's Jim Sciutto, Barbara Starr and Katie Bo Lillis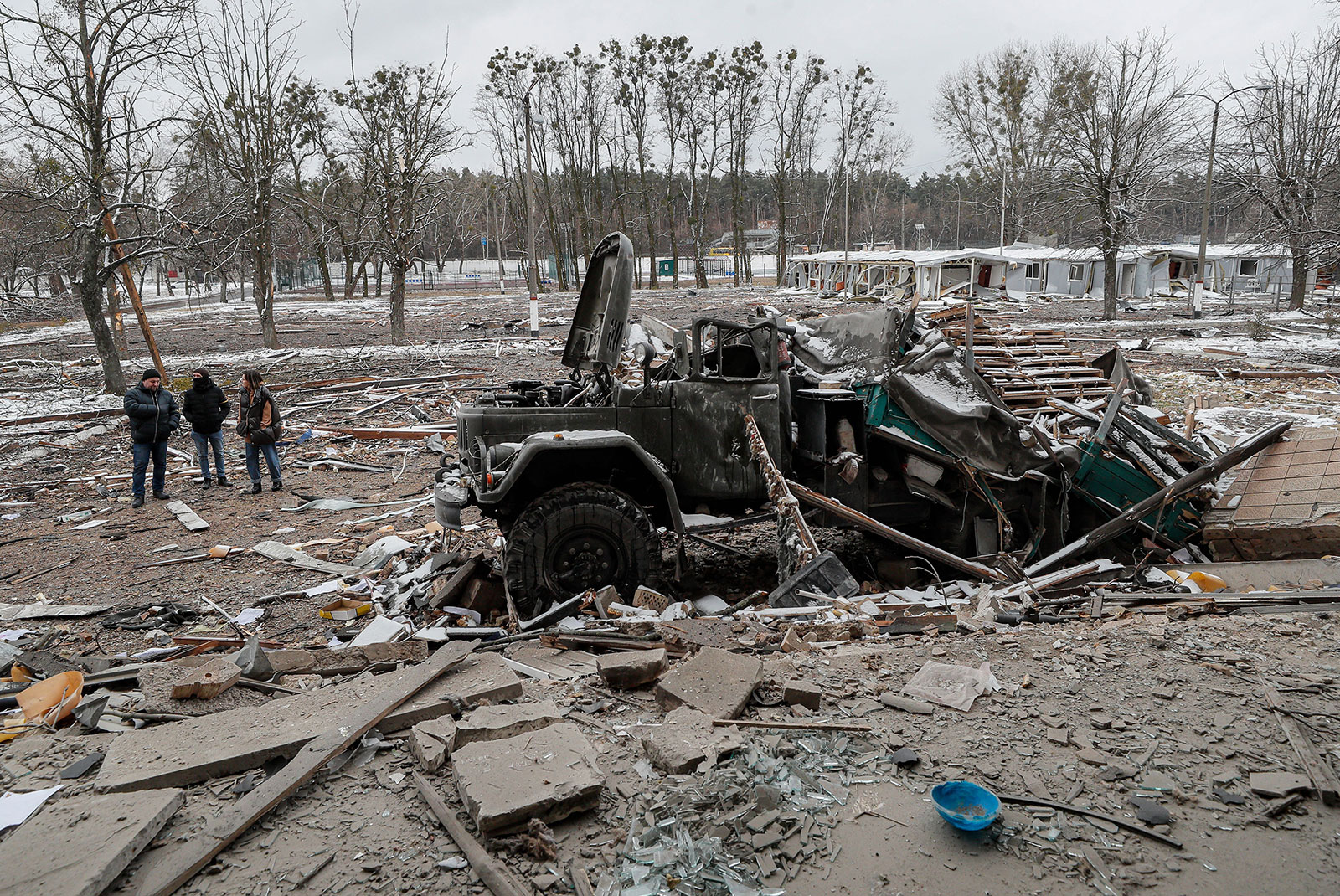 Russia has lost roughly 3% to 5% of its tanks, aircraft, artillery and other military assets inside Ukraine — compared to Ukrainian losses of roughly 10% of its capabilities, according to two US officials familiar with the latest intelligence. 
US and western officials caution that those ratios are difficult to calculate and likely to change — not only because both sides continue to incur losses as the week-old war grinds on, but also because both Russian and Ukrainian forces are being resupplied. 
But the stark imbalance underscores grim assessments from US and western officials that despite a stiffer-than-expected resistance by Ukraine that has kept major cities out of Russian hands, it is still likely to be overwhelmed as Russia launches an intensified and less discriminate phase of its assault. 
And even despite western assistance, US officials say Ukraine is still vastly outgunned by Russia. Moscow has initially leaned heavily on its more modern precision cruise missiles, according to a source familiar with the intelligence, heavily degrading Ukraine's military infrastructure. Meanwhile, Ukraine has continued to burn through its supply of shoulder-fired Javelin missiles.
"I've spoken to Biden many times, and I've told them many times that Ukraine will resist and fight stronger than anyone else but on our own against Russia we won't manage it," Ukrainian President Volodymyr Zelensky told CNN's Matthew Chance in an interview on Tuesday. 
Ukraine "need[s] the classic bits of kit now. They need bullets, they need bandages. They're going to need fuel. They're going to need ammunition, in addition to the humanitarian support to help with medical assistance, sustaining hospitals, both for combat wounded, and for civilians that are being hurt," said a senior western intelligence official.
"And they're going to need a lot in ammunition and weapons resupply, because the Russian force is both numerically and qualitatively superior," this person said. 
Almost 6,000 Russian soldiers have died during the first six days of Russia's invasion into Ukraine, Zelensky claimed Wednesday morning. The senior western intelligence official said Wednesday morning that the western figure is similar — roughly 5,800 — but cautioned that "my number is from yesterday."
US officials believe that Russia is now changing tactics, according to one American official. While Moscow started off with a more modern combined arms approach — one that also appeared to eschew targeting civilian infrastructure — it has now shifted to what this official called a strategy of "slow annihilation." Officials anticipate continued heavy weapons bombardment and the possibility that "tens of thousands" of troops will march on major Ukrainian cities, this person said.
Another western official also said that there is a sense that the conflict may be shifting to a grinding war of attrition — not the flash campaign that both Russian President Vladimir Putin and US intelligence had suspected would cause the fall of Kyiv in a matter of days. 
2 hr 57 min ago
Biden says "it's clear" Russia is targeting civilians, but it's "too early to say" if it's committing war crimes
From CNN's Kevin Liptak and Betsy Klein
US President Joe Biden said Wednesday that he believes Russia is intentionally targeting civilians in Ukraine but declined to say whether he believed war crimes were being committed.
"It's clear they are" targeting civilians, Biden said. 
Asked if he believed Russia is committing war crimes, Biden said, "We are following it very closely. It's too early to say that."
As the US looks for ways to punish Russia, Biden also reiterated that sanctioning Russian oil exports remained a possibility, though officials have cautioned that they will work to minimize the impact of such a move on US and global oil prices. 
"Nothing is off the table," Biden said when specifically pressed on banning Russian oil exports. 
Separately, Biden also said it is up to Ukrainian leader Volodomyr Zelensky to decide whether he wants to remain in his country as it comes under siege by Russia. 
"I think it's his judgment to make and we're doing everything we can to help him," Biden said as he departed the White House. 
Zelensky has said he is Russia's top target during the invasion, and that his family is the second. The US has said previously it is providing a broad range of support for Zelensky, though hasn't detailed what measures it's taking to protect him 
CNN has reported previously that the US has discussed contingency plans with Zelensky about leaving Ukraine or relocating to Lviv. Zelensky has stated repeatedly he wants to stay in the capital. 
Biden and Zelensky spoke for about 30 minutes on Tuesday.
3 hr 29 min ago
Parliament gives standing ovation to Ukraine's ambassador to the UK
Members of UK parliament applauded Ukraine's Ambassador to the UK Vadym Prystaiko during a meeting on Ukraine at the House of Commons in London.
As Russia's invasion of Ukraine continues, UK Prime Minister Boris Johnson told parliament that Russian President Vladimir Putin's actions qualify as "war crimes."
"What we have seen already from Vladimir Putin's regime in the use of the munitions that they have already been dropping on innocent civilians … in my view, [it] already fully qualifies as a war crime," he said.
3 hr 35 min ago
Ukraine calls on UN to reconsider Russia's permanent membership on Security Council
From CNN's Anastasia Graham-Yooll and Niamh Kennedy in London
The Ukrainian government is calling on the United Nations to reconsider Russia's status as a permanent member of the UN Security Council, Foreign Minister Dmytro Kuleba said Wednesday, questioning the legitimacy of Russia's position on the council.
Speaking in televised address, Kuleba called for a "thorough and unbiased" legal review of Russia's permanent membership.
"We are confident that when the analysis is complete, it will be evident that Russia's presence at the UN Security Council is illegitimate," Kuleba said. 
"Everything depends on readiness and determination of the legal team of the UN secretariat to investigate this," he added. 
Remember: Russia is one of five permanent members of the UN Security Council, along with the United States, the United Kingdom, France and China. This position grants those countries veto power, which means that the council cannot adopt a resolution if any member votes against it regardless of its level of international support.
3 hr 45 min ago
The teen who tracked Elon Musk's jet is now following Russian oligarchs' planes
From CNN's Jordan Valinsky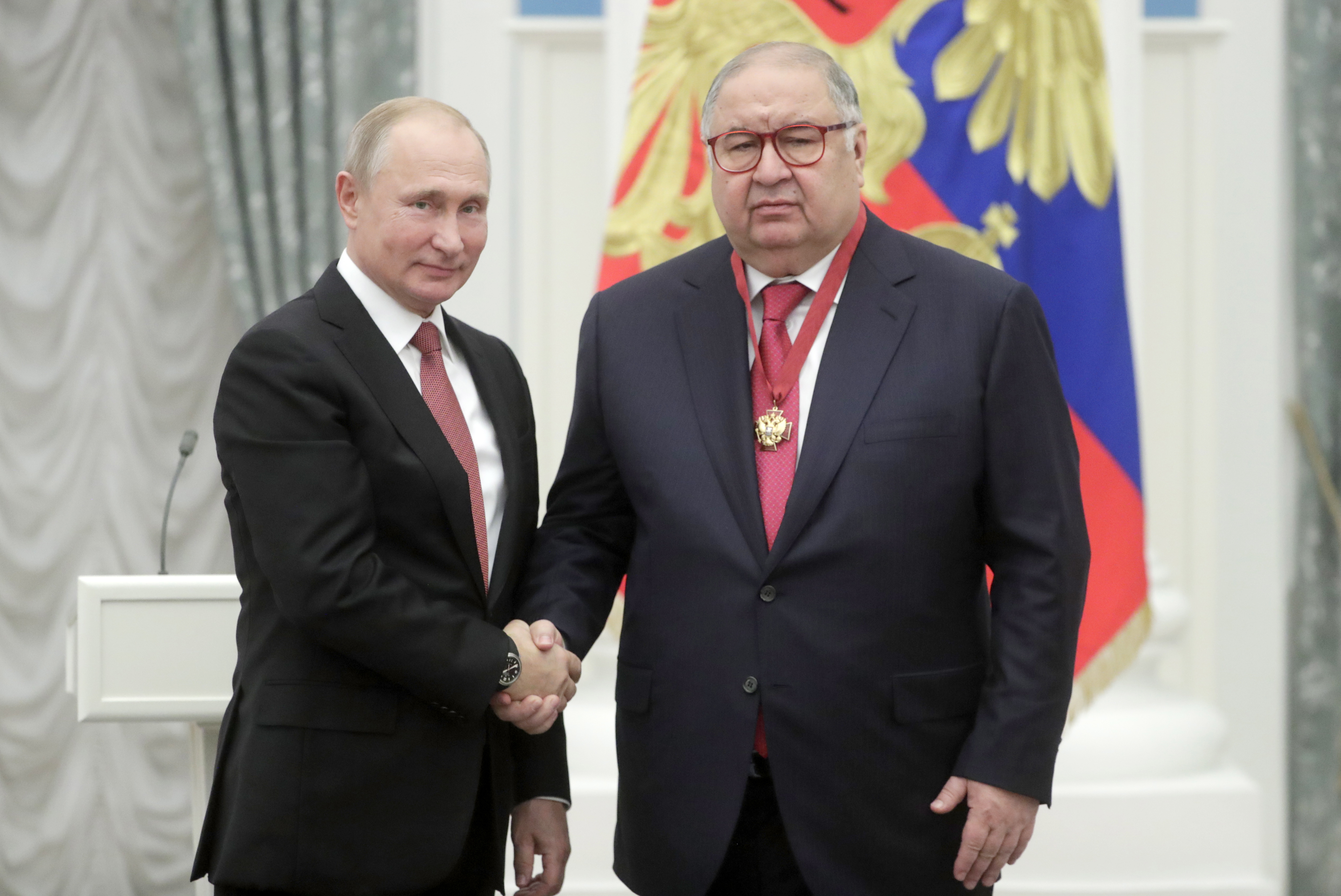 Jack Sweeney, a Florida teen who tracks Elon Musk's private jet online, has a new aviation-themed target: Russian oligarchs and billionaires.
The 19-year-old, who rejected Musk's $5,000 offer to delete his Twitter account, recently launched two new automated Twitter handles — @RUOligarchJets and @Putinjet — following Russia's invasion of Ukraine. The two profiles have amassed nearly 300,000 followers combined and provide nearly live updates of the private jets' movements along with pictures of maps locating them.
Sweeney told the Wall Street Journal that people have long been telling him to start Twitter accounts like this, and those requests ramped up after sanctions took aim at Russia's richest.
Russia's oligarchs face economic chaos at home and punishment by the West after President Vladimir Putin ordered his troops into Ukraine. The United States and its allies have responded by sanctioning wealthy individuals who are close to the Kremlin.
"The aircrafts these oligarchs have are absolutely crazy," Sweeney said in an interview with Bloomberg. The country's richest are traveling on commercial-sized aircrafts like an Airbus A319 and Boeing 737.
"Their planes are huge compared to other jets," he said.
Read the full story here.
4 hr 9 min ago
"I'm seeing my people die," says Ukrainian medical battalion volunteer
From CNN's Adrienne Vogt
A volunteer with a Ukrainian medical battalion said she is seeing her people die as Russia continues its invasion of Ukraine.
Tata Marharian moved from her hometown in the Donbas region to the capital of Kyiv in 2015 to study international law, she told CNN's Jim Sciutto in an interview.
"I'm seeing dead children. I'm seeing hospitals being bombed. I'm seeing churches being bombed. It's difficult. … I'm seeing my people die. I'm seeing all sorts of horrible things. I studied crimes against humanity at the university. I studied international humanitarian law. I never thought I would see this with my own eyes in my country," she said. 
Marharian said that she is convinced she and her fellow volunteers can make a difference.
"I've never been more happy to be Ukrainian," she said. 
"I've never been more lucky to be born in this country. We all are united, we all are consolidated, and one person maybe is powerless to make a difference, but trust me, we're not one. There are a lot of people fighting here, back to back. So, yeah, we do have hope," she said. 
She called Russia's claims that its forces are not targeting civilians as "ridiculous," saying that her hometown of Volnovakha is "on the verge of humanitarian crisis" and invading forces "bombed the hell out of it."
"I know it is difficult for people to sort of realize the scale of the situation right now, but just imagine that there is a city and there is a town, small town, and you've spent there 17 years of your life. You drove your bike over there and you went to school, you said hello to your neighbors, you lived and loved, you laughed there, and then the other day you see the town, it's completely bombed and there is not a single house … The last thing I want is for my beautiful Kyiv to repeat the destiny of my Volnovakha. I'll do anything in my power to stop this aggression," she said.